Post graduation: the options you have not been considering
Hang on for a minute...we're trying to find some more stories you might like.
As October comes into full swing, several seniors start filling out college applications, finalizing college essays, and narrowing their college lists to begin planning for their future. Although this has been a common practice amongst seniors, some students prepare for other education options and career choices post high school. Some of the alternatives to a four year degree include a two year community college degree, technical school, apprenticeship, and the military.
At PV, these alternatives have not always been promoted. Principal Mike Zimmer said, "We have spent about 30 years saying that the trades aren't important and that the only way to be successful is to go to a four year school and become a white-collar worker while sitting behind a desk and running a computer."
Zimmer added, "Now this mantra is no longer the case. You can go into a trade where you are being paid while going to school and your education is free. Then when you come out, you are earning anywhere from 45,000 to 65,000 dollars a year."
Career Center Advisor, Mary Johnson, also questioned if the return in the investment of a four year college degree would be worth it to every student. She said, "The average student is coming out of college with $60,000 in college loans. With a masters degree or even a doctorate program, you are looking closer to 100,000 to 200,000 dollars in college debt which is almost the price of a house."
Community colleges like Scott offer different programs to prepare one for the workfield. Most community colleges offer three different types of programs: certificate, diploma and degree. These programs range from lasting nine weeks to about two years.
Technical schools are also another option post high school. These schools can be offered through institutions like Midwest Technical Institute in Moline, Illinois or QC Co-Lab in Davenport, Iowa. Through these technical schools, students are provided with vocational training in fields like allied health care, cosmetology, professional truck driving and mechanical trades. At Midwest Technical Institute, most courses can be completed in less than one year.
Apprenticeship programs are also offered in the Quad City area through both union and non-union sided companies as well as small businesses. At these apprenticeship programs, individuals are hired by the company or business to train with journey-level craft person or trade professional during the day in occupations like plumbing and electrical work. After training in the day, individuals go through evening coursework 3-5 times a week.
Union sided companies like Arconic, formerly known as Alcoa, offer apprenticeship programs for jobs like electrical maintenance, mechanical maintenance and lab technicians. Through these year long programs, one can obtain training, education, and pay in a specialized craft or trade.
Zimmer commented on PV's role in promoting these post high school options. "We have really been trying to up the traditional career technical education classes besides just the engineering classes with classes like welding and carpentry. We have been trying to respond in kind with these needs. Now we just need students to look at them and want to explore these careers," said Zimmer.
For students looking for another way to receive a paid or reduced education, the military is also an option. The Armed Forces tuition assistance program is in place for those serving in the armed forces in order to pursue their education.
According to Military.com,  The program's requirements and restrictions can vary among the different military branches, National Guard and Reserves. Although the requirements may vary, enlisted and officer military members can receive up to $4,500 per year for tuition and other fees.
The Post-9/11 GI Bill and Montgomery GI Bill both are offered to members of the military who have served a range of years for the country. Military.com states, "[Post 9/11 GI Bill] depending on length of service, the bill pays 40% to 100% of tuition and fees at a in-state public college or university, or up to $17,500 at a private or foreign school." The Montgomery GI Bill follows a similar system, except tuition is paid monthly.
One can also prepare for military service and pay for a college education with Reserved Officer Training Corps (ROTC). Through this program, students serve the U.S by working in the Navy, Army, Marine Corps or Air Force after they graduate. After serving, ROTC pays for a portion or the entirety of one's college tuition, depending on each student.
Johnson addressed the reason why she believed these career and educational options should be considered. "Again, I'm not saying that college isn't a possibility down the road, but there are ways to get there without having to go into so much debt," Johnson concluded.
About the Writer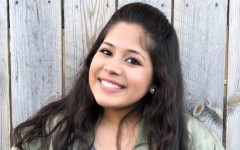 Angela Pandit, Social Media Manager
My name is Angela Pandit and I am the Social Media Manager for Spartan Shield Online. I love to be involved in our school and community through various...