Platinum sweeps the floor at state solos
Hang on for a minute...we're trying to find some more stories you might like.
Now that the football season is over and the fall sports are coming to an end, Platinum's season is becoming more serious. During the fall season, Platinum mostly focused on halftime performances and cheering on the Spartans. Now, it is their time to represent Pleasant Valley in the state championship for drill team and solos.
This past Saturday six varsity dancers from the Platinum team competed their state solos in Newton, Iowa against all of the other dance teams in Iowa. The Platinum coaches pick who gets to enter a solo based off the score they received during their tryout in April. The dancers who competed this year were Amy Showers, Allie Zucker, Hannah Lederman, Noel Pearson, Caitlin Crome, and Ashlyn Schmidt.
Platinum has represented Pleasant Valley very well placing in the top ten the past two years. Hannah Lederman who was a freshmen at the time, placed third place in the state solo competition which is the best Platinum has ever done competing against such talented schools. Last year at the 2018 state solo competition, Caitlin Crome tied for 7th place with another individual from Dowling Catholic and Amy Showers received 10th place.
This year, the Platinum dancers really improved and shined on stage as they were competing their solos. Amy Showers, a current senior, stated, "It was sad competing as a state soloist representing Pleasant Valley for the last time. I made sure to leave it all out on the floor and enjoy every last bit of it."
Every one of the dancers who competed in this year's 2019 state solo competition received a division I score and four out of the six even placed within the top ten. Ashlyn Schmidt placed 10th, Hannah Lederman placed 6th, Amy Showers placed 5th, and Caitlin Crome placed 3rd. Placing within the top 10 soloist is a very big accomplishment because Pleasant Valley is against some really tough schools with talented individuals.
Caitlin Crome, a junior, said, "Performing at state solos is always an awesome environment because everyone there including my coaches and teammates are super supportive and positive." State solos also gives the dancers another opportunity to meet people from other schools and form supportive friendships while cheering each other on.
Showers also stated, "Now that state solos are over we can now focus on our team as a whole heading into the state drill team competition." Looking ahead, Platinums next step is the state drill team competition that is taking place in the Wells Fargo Area on Nov. 30. They have been practicing since June and are hoping they can keep their streak and bring home another state title.
About the Writer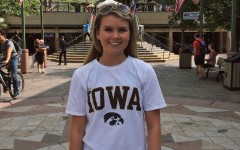 Caroline Carlson, Arts and Entertainment Editor
My name is Caroline Carlson and I am the section editor for the arts and entertainment for the Spartan Shield Online. I am on the Platinum dance team and...