Girls basketball comes out with a bang
Hang on for a minute...we're trying to find some more stories you might like.
Nov. 5 marked the beginning of a new era for Pleasant Valley girls basketball. The girls have worked hard the past two weeks to prepare for their season opener. "We've been looking forward to this day and we are excited to play against new competition," commented senior Macy Beinborn. This Saturday at 2:30 p.m., the girls play Linn-Marr at home.
Last year, the girls had a 21-2 season and were MAC champions. They hope to live up to that expectation and prove themselves on the court this season. They take practice one day at a time, hoping they peak at the right time in the season.
The motto this year is rise up because the girls are hoping to surprise other teams with what they can do, despite the setbacks. They are looked upon as "underdogs" because they lost quite a few valuable seniors last year. Ellie Spelhaug and Kira Arthofer scored major points for the team, so they are looking to replace those lost points. They hope to have many upsets this season.
The team has two returning starters, Carli Spelhaug and Adrea Arthofer. Two year starter Spelhaug hopes to rise up to the challenge this year, "I really want to go out strong for my last time in the Spartan basketball uniform. I've been a part of this team for four years, so it has a special place in my heart."
This year, three other seniors join them on the starting lineup: Macy Beinborn, Mallory Lafever and Anna Griffin. Though the team appears old because they have so many seniors, they struggle with inexperience because they only have two returning starters.
Head coach Jennifer Goetz has organized one of the strongest defenses in the MAC. The girls play a 2-3 zone defensively. The team currently holds the school record for the least number of points given up.
Though they may struggle with offense, PV girls defense is a force to be reckoned with on the court. "We will use our defense to build confidence in our offense.The defense will carry us a lot in the beginning of the season when it comes to getting points on the board. We hope to have a lot of steals that lead to transition points," said Spelhaug.
About the Contributors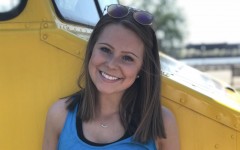 Gibson Yost, Editor-in-Chief
My name is Gibson Yost and I am one of the Editor-in-Chiefs for the Spartan Shield online. I am a senior and I have been a cheerleader for 4 years and...
Maya McClain, Photo Manager
My name is Maya McClain, I'm one of the Photography Managers. I enjoy spending my free time taking pictures in and out of school. You can usually find...