The best (and scariest) local haunted houses
Best (and scariest) local haunted houses
Haunted housing is a very popular fall trend among teens. It is a great way to experience the thrill and excitement of Halloween while bonding with friends. The Quad City area offers a nice selection of haunted houses with varying degrees of scariness. Visit any of these haunts at your own risk!
Asylum of Mad Dreams
Location: 19425 Rt 84 N Cordova, IL 61242 (27 minute drive)
Cost: $15
Description: The Asylum of Mad Dreams features five haunted attractions: Asylum Bus, Hell 2 Hospital, Crypt 13, 3D Chaos, and Phobia. The variety of attractions at the Asylum ensures that each customer gets his/her money's worth. It is open every Friday and Saturday during the month of October from 7-11:30 p.m. Dress warmly if you decide to try this haunted house; the waiting area is outdoors.
Factory of Fear
Location: 5027 4th Ave. Moline, IL 61265 (16 minute drive)
Cost: $15 ($20 for VIP)
Description: Factory of Fear is the Quad Cities' largest indoor haunted house. It received a 90% remodel in 2015 featuring 10 new rooms and 12 new characters. "I liked Factory of Fear because there weren't that many people that scared you, but when there were, it was really good and made me fall to the ground," freshman Riley Gau explained. The Factory of Fear is open on Fridays, Saturdays, Sundays, and Halloween Monday during October.
QC Haunted Forest
Location: 3501 207th St. N. Port Byron, IL 61275 (18 minute drive)
Cost: $15
Description: Open 7-11 p.m. on Fridays and Saturdays in October, the QC Haunted Forest features a hayrack ride and multiple forest attractions. Megan Gropel, freshman, said, "I like the Haunted Forest because you aren't in a closed area." The waiting area is indoors and includes bounce houses and a concession stand.
Terror at Skellington Manor
Location: 420 18th St. Rock Island, IL 61201 (21 minute drive)
Cost: $15 ($20 for VIP Fast Pass)
Description: Terror at Skellington Manor is located inside a haunted "insane asylum." It is open on Fridays and Saturdays in October from 7 p.m. – 12 a.m., Sundays from 7-10 p.m., and the last Thursday in October from 7-10 p.m. 2016 PV graduate Conor Johnson said, "I thought it was a fun thing to do in the Quad Cities. It was affordable and I definitely recommend it." A portion of the proceeds at this haunted house go toward their Water4Life project that provides clean water to families in Kenya.
Torment at Twelve Hundred
Location: 5030 N 1200th Ave. Orion, IL 61273 (36 minute drive)
Cost: $15
Description: This haunted house is very unique in that it follows a plotline and releases a new "chapter" of the story each year. It takes place both indoors and outdoors. The haunt is open during October on Fridays and Saturdays from 7 p.m. – 12 a.m. and on Sundays and Halloween from 7-10 p.m. Torment at Twelve Hundred was rated one of the top haunted houses in Illinois by USA Today.
About the Writer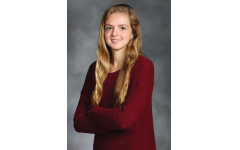 Emily Nutt, Former Copy Editor
I'm a senior, and I've been at PV since I was in first grade. I love to run cross country, play tennis, and watch "The Office" on Netflix. After high school,...