Snowday? Long time no see
Hang on for a minute...we're trying to find some more stories you might like.
Sunday evening a snowstorm hit the Quad Cities, and for the first time in four years, Pleasant Valley school district called for a snow day Monday. The seniors at the high school got to enjoy their first snow day as high school students and many of them were extremely happy.
As most people know, seniors are not required to make up the snow days that are added after the date of graduation, which is set for May 26. However, if Jim Spelhaug decides to use a day that's currently scheduled off for the district as a make up day then seniors would be expected to show up and make up the snow day.  
Noah Bateman, a senior, enjoyed the snow day without a doubt. The extra day off transformed the five day Thanksgiving break into a six day break. Bateman said he didn't do much but relax during the snow day. "Besides some shoveling, I watched The Grinch," he said, "the one with Jim Carrey."
The call to take the day off stimulated different reactions amongst students. "I was very surprised because it's PV and PV hardly ever calls for a snow day," said Bateman. He isn't wrong, PV doesn't call for a snow day often. He hasn't gotten to enjoy a true snow day since his eighth grade year. PV has called some late starts here and there since then but that's it.
"I wasn't," said Charlie Isbel, "I wasn't surprised because we got over a foot of snow. I was driving in it for a while and assumed the roads wouldn't be that safe by morning still." Isbel spent his day off snowblowing all morning and working at Home Goods all night.
Briggett Tribbett is a perfect example of a senior who looks forward to the positives of being one. Since seniors aren't forced to make up a scheduled snow day while every grade below is. She said, "I really hope for a ton more."
The district has yet to decide when they will make up the snow day.
For a current senior, the district has not called a snow day throughout their entire high school career. Monday was a wonderful privilege to be thankful for this Thanksgiving break.
About the Contributor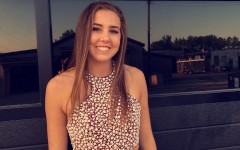 Hope Sickels, Staff Contributor
I'm Hope Sickels, a part of the 2019 class. I'm a Staff Contributor for the Spartan Shield Online this year. I've attended PV since kindergarten and...