The winter storms have just begun
Hang on for a minute...we're trying to find some more stories you might like.
On Nov. 25, a long and heavy snow storm hit all parts of the United States. This storm delayed 8,000 flights and cancelled nearly 3,000 flights nationwide and caused an immeasurable amount of deaths due to the dangerous and icy conditions.
Storm Bruce broke the record for the highest amount of snowfall in a single day in the month of November. The new record is somewhere between 10 and 11 inches, with the previous record being 7.5 inches recorded on Nov. 6, 1951. The highest amount of snowfall landed in south central Iowa and northwestern Illinois. Locally, Oskaloosa, Iowa received 17 inches of snow.
Senior Lilly Meyers said, "This was one of the worst snow storms I've experienced. Many businesses and stores were forced to close early due to all of the snow which was smart but couldn't prevent every accident." This storm caused many tragedies throughout the country. A couple include a 20 vehicle pileup in Colorado on Nov. 25 and a multi-car accident caused over 12 injured people on Nov. 25.
Because of the rain shower before the snowstorm, the roads to become very dangerous quicker than usual by leaving sheets of ice underneath all of the snow. This caused snowplows to be forced off the roads, making everyone unable to leave their location. In Elizabethtown Pennsylvania, the Elizabeth Area School District busses were unable to operate, leaving all of the students stranded in their school until parents were able to pick them up.
"Get ready to walk in a winter wonderland of freezing cold and an abundance of snow this year," says desmoinesregister.com, because farmers are predicting a teeth chattering cold with a plenty amount of snow this coming Winter. Iowa is predicted to receive the most amount of snowfall this year. Meyers continued, "It is probably a good thing that we had a bad storm this early, because now we can prepare for the rest of the winter."
Barbra Erenberger, a resident of the neighborhood across from Hopewell stated, "It is going to be very important that snow removal companies are really committed this year, especially to neighborhoods like mine who have elementary children walking through it constantly."
About the Contributor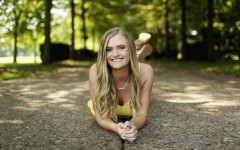 Abbey Hancock, Student Life Editor
My name is Abbey Hancock and I am a part of the class of 2019. I am the Student Life section Editor for the Spartan Shield online. I was a part of the...