Squeaky clean Christmas
Hang on for a minute...we're trying to find some more stories you might like.
Often times during the holiday season, the same stale gift ideas are frequently in rotation during Secret Santa Exchanges or under Christmas trees. If in need of a way to spice up gift ideas, take a new angle by visiting some of the fresh stores in Downtown Davenport offering unique twists to Christmas shopping, as opposed to a $25 gift card to Target.
Intriguing shops in Downtown Davenport have the potential to rejuvenate Christmas shopping and turn it from a chore to an adventure.
Senior, Mahum Haque, admitted to being guilty of buying generic presents for her friends for the holidays, "I feel like I give similar gifts year to year because it's safer to do that." Haque said she is struggling to find something for her friends now that they don't need or don't already have, and would be open to buying a more unusual gift if given the option to do so.
One shop in particular adds a new twist to traditional body care items. Located in The Village of East Davenport, Escape Goat Soaps is not your typical soap shop. Predominantly run by by Matt McClanahan, who raises goats, combined his passion for soap making with his goat farm to create goat milk soap. It is one of the many natural beauty-related products sold at his shop.
Bath bombs have become a popular trend implemented into everyday life. McClanahan makes bath bomb eggs, drawing inspiration from Baskin Robbins' signature 31 flavors. Each week is a different "flavor", such as cotton candy or bubble gum. The bath bombs are shaped like eggs and are packaged in egg cartons. "This is the best selling product we have and we focus on moisturizing the skin as opposed to dyeing the bath water."
McClanahan admires the old time feel and welcoming atmospheres of local businesses like Lagomarcino's, Happy Joes and Popcorn Charlie. "I try to emulate the feeling of walking into a candy shop but without the calories."
If bath bombs don't sound desirable, there are a variety of other products to choose from. Face masks, men's mustache wax, body wash bars from Hawaii, hand creams, and candles are just a few of the gift options available in store this holiday season.
McClanahan holds every product close to his heart, "everything I have in here is stuff I love."
About the Contributor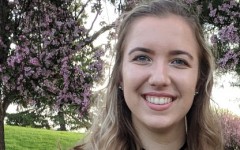 Alana Woolison, Photo Manager
My name is Alana Woolison and I am one of the photo managers for the Spartan Shield. I love being outdoors and have a cat named Chase. I have an older...