Club Spotlight: Pleasant Valley's Esports Teams
Hang on for a minute...we're trying to find some more stories you might like.
This year the Pleasant Valley High School Esports team made its debut, not only to students, but to other schools in the Quad Cities. Esports, team multiplayer video games played competitively online, have made huge strides in popularity globally in the past few years. PV students decided it was time to step into the local spotlight of competitive gaming.
Players on this team participate in local tournaments with other high schools and community colleges in numerous online, multiplayer games. Overwatch, Rocket League, CSGO, League of Legends, and Fortnite are just a portion of the games the club's teams participate in, with hopes of expanding to more games in the future.
The competitive aspect of Esports is what has attracted many students to the team. Thomas Anderson, senior at PV, explains the type of experience players can expect. "Esports offers a competitive drive and motivation to compete similar to the same ways that normal sports encourage competitiveness and team strategy." Anderson adds that competition can range from mediocre to high level and experienced game play.
While categorized as a school club, PV's Esports team rarely ever has physical meetings. Team captains typically reach out to players when setting up practice times, where players get online from home to participate. New players can simply express which games they are interested in playing and find or create teams to compete with.
Overwatch, a team-based multiplayer first-person shooter game, has shown promise for PV's team. They placed second in the January 12th, 2019 tournament at the gaming facility Paradigm (Davenport, IA). Team member and senior at PV, Brenner Stickney, favors the refreshing experience Esports provides with its enjoyable and relaxed but competitive game play, as compared to playing single-player at home. "It's a different way of playing that gives it a new vibe and sense of excitement," Stickney says.
As of now, PV Esports is focusing on PC based competition with most tournaments taking place at the gaming facility Paradigm. All students, participants or not, are encouraged to come to tournaments to watch the team in action. "It's like watching the Olympics, how thrilling it gets. What seems like a guaranteed victory for a team can suddenly change in the final moments of the game," Stickney reports.
Posters for the teams can be found around the hallways of the Pleasant Valley high school. Anyone interested in playing is encouraged to join the official Discord server (linked: https://discord.gg/uGU3Ks) and to follow their Twitter @EsportsPvhs.
About the Writer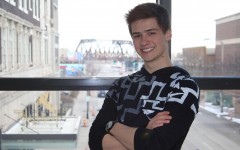 Odin McDonald, Photo Manager
Hey! I'm Odin McDonald, one of the photo mangers for the Spartan Shield Online. I am very excited to be able to create content for all readers and listeners...