Spartans win state science bowl
Hang on for a minute...we're trying to find some more stories you might like.
On January 26, the Pleasant Valley High School Science Bowl team competed in the Ames Lab High School Science Bowl at Iowa State University.
Pleasant Valley was one of thirty-six teams at the competition. They were tested in math, Earth science, astronomy, biology, chemistry, physics, and energy.
Members that competed included Aditya Desai, Aadil Manazir, Mitchell Strobbe, Aman Manazir, Sujay Marisetty, along with Coach Bartley Meinke.
Aditya Desai talked about the team's practice routine, "we practiced approximately once a week but ramped it up a little as we got closer to the competition. Many top tier teams practiced much more than us, but ultimately, the quality of the teaching in the science and math classes at our school gave us the edge."
The competition started with qualifying rounds in the morning, followed by a double-elimination tournament where each team would have to lose twice before being eliminated. The Spartans went 7-1 in the competition with the lone loss coming to Ames High School in the qualifying rounds.
They scraped out a close match against Johnston High School in the second round of the double-elimination tournament, winning 70 to 62 points. With one question to go in the match, PV was winning 66-62. Desai rang in with the correct answer at the last possible moment, giving his team the match victory.
Pleasant Valley faced West Des Moines Valley High School in the championship match. The stage was set and the stakes were high. "Before the final, we were confident but nervous. The nerves showed in the first half of the match, but we were able to refocus and pull away in the second half," said Desai. The Spartans defeated the Tigers 48-20.
With the state championship, they have qualified for the national tournament which will be held in Washington D.C. from April 25 to April 29.
Mitchell Strobbe is excited to compete in the national tournament. He stated, "I'm honored to have won the state competition. I'm really proud of this team, and I'm very happy to be representing the state of Iowa at Nationals. I think our team can perform in a way to make the school proud."
The first and last time Pleasant Valley qualified for the National Science Bowl was in 2013.
About the Writer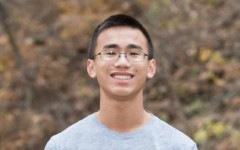 Nathan Wong, Opinion Editor
My name is Nathan Wong, and I am the opinion section editor for the Spartan Shield Online. I am a senior at Pleasant Valley High School. I am a captain...