PV's #TenYearChallenge
Hang on for a minute...we're trying to find some more stories you might like.
2019 has already proved to be a year of retrospection. Twitter, Instagram, Snapchat, and nearly all means of social media are bursting with users posting transformation pictures side by side.
While #TransformationTuesday has been a recognized hashtag for years, 2019 has brought along the #10yearchallenge: an opportunity for users to post a picture from 2009 alongside one from 2019 as a means of juxtaposition. In this season of retrospection, it is important to look at how our school as a whole has changed over these past ten years in terms of school infrastructure, population, and even extracurricular opportunities. I present to you Pleasant Valley High School's #10yearchallenge.
The Pleasant Valley Band has a strong presence among the school's population. One in every four students is involved in band, making it the school's "most participated-in" extracurricular activity. While the school's band now has over 320 members, it has not always been that way. Back in 2009, the two concert bands, two directors, and two jazz bands sufficed the program's needs, compared to the four concert bands, four directors, and three jazz bands PV currently has. Drew Anderson, director of Pleasant Valley Bands, says, "The biggest change over the past ten years has been growth, both within the band and the school population." According to data from yearly school reports, in the 2008-2009 school year, the average class size was around 285 students. Now? Almost 360. With all of these additional students also come additional facilities.
Pleasant Valley High School looks nothing like it did ten years ago. Since 2009, there have been a handful of structural changes to the school. Brett Ahlgren, PE teacher and member of PV's graduating class of 2010, recalled, "The athletic office area used to be a playground for childhood development classes and the Black Box didn't even exist– it was a bunch of art rooms."  Within the past year, PV has added an entire new gym, a three-story tower (full with lockers and classrooms), and even a new band room. The changes Ahlgren mentioned coupled with these new multi-million dollar additions headline the major architectural changes PV has gone through over the last several years.
A significant amount of change has taken place on the academic front as well. In 2009, graduation rates remained around 92%. In 2018, the graduation rate was over 97%. Ahlgren mentions, "I never took any AP classes in high school…not many people even did. I had about six to ten classmates taking AP classes, maybe the top 3% of our class, but now almost every student has an AP course somewhere on their schedule." PV students can take these AP courses in order to potentially knock off certain credits from a tough college course load. Back in Ahlgren's time, PV only offered 10 AP classes but now offers 17, spanning subjects from physics to art. This variety of AP classes offered is why students are involved in AP classes now more than ever.
Pleasant Valley High School has changed a lot over the past ten years. With more students and more opportunities for these students, PV's current graduation rate is one of the highest in the state of Iowa. As we remain committed to excellence, let us wish PV ten more years of growth and success.
About the Contributors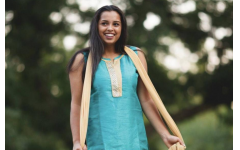 Shreya Khurjekar, Copy Editor
My name is Shreya Khurjekar and I am a Copy Editor for the Spartan Shield Online this semester. When I am not enthusiastically editing articles, I am probably...