Voting for false representation
November of 2018 brought midterm elections where Iowans voted for the U.S House of Representatives, the Iowa State Senate, Iowa State House, and Governor.  
Republicans won the Governor's race along with both Iowa Legislative houses.  The U.S House of Representatives was flipped from being Republican controlled to a Democrat majority.  Iowa's second district voted Democrat in nearly every race, including its U.S Representative.
Scott County voted for Congressman Dave Loebsack to remain as the representative of Iowa's 2nd district, and he won with 55% of the votes.  Congressman Loebsack continued to campaign on promises consistent with a moderate Democrat, but when it has come time to vote on the house floor, he has consistently voted against his strong "native Iowan" beliefs.  Loebsack released a statement in response to a speech by former president, Barack Obama, stating, "as a native Iowan, I was raised with an appreciation for Iowa's hunting traditions and am a strong supporter of our Second Amendment rights."
In the same month, he voted against expanding federal hunting grounds to give hunters more land to exercise their Second Amendment rights.  One year later, "Bill HR-38" came up for a vote to allow for citizens with a concealed carry permit to travel across state lines to other states that authorize concealed carry.  Congressman Loebsack voted against the bill.
Iowa's 2nd district has continued to vote for a representative who does not cast votes the way he campaigned he would.  Loebsack is not popular among Republicans for his stances on a plethora of key issues. He somehow continues to remain a favorite among Democrats and was elected to his seventh term.  Loebsack claims to stand up for Iowan's where 48.3% of the population is employed by small businesses.  Shortly after winning his third term, he was given an approval rating of 66% by the National Small Business Association.  
Vote Smart, an organization dedicated to providing facts on politicians such as voting history, speeches, statements, and funding, sent a request for Congressman Loebsack to publicize his stances on several key issues that carried weight among voters.  Loebsack refused to provide his positions, which may be due to his lack of courage to stand up for them when it comes time to vote.
Whether a politician is supported or not, they have an obligation to represent their constituents the way they were voted to do so.  Citizens have a right to be informed of the actions of their elected officials and to evoke change when it comes time for an election.  Gui Pinho, a PVHS senior, says, "I expect them to deliver their promises or at least the idea behind them to stay true." Students who can vote should do so for a candidate with a faithful voting record and genuine motives. Voting for Dave Loebsack is a vote for the mainstream Democratic Party, not a vote for "native Iowan" beliefs.  
About the Contributor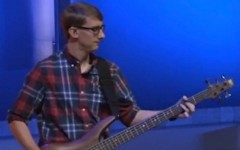 Trevor Glaum, Business Manager
Hi!  My name is Trevor Glaum and I am one of the business managers of the Spartan Shield Online.  I am a senior at PV and I enjoy running Cross Country....