Vaccination bill at standstill in Iowa Senate
Hang on for a minute...we're trying to find some more stories you might like.
A bill to make vaccination exemptions available for parents with "philosophical" beliefs against them has stalled in the Iowa Senate.  The Senate also rejected a bill to end discrimination towards families who aren't immunized.
Families who are not immunized can have higher insurance rates and can be declined health care. Private practice doctors in Iowa can legally turn someone away based on immunization records, even if a patient has forgone immunization for religious purposes.  Doctors can be held liable for failure to treat a patient therefore many plainly do not accept unimmunized patients.
Currently, students can receive an exemption from vaccinations such as measles/mumps for religious purposes, but those exemptions have tripled in the last ten years. Governor Kim Reynolds has voiced her support for vaccinations citing health and safety concerns.  She also believes current exemptions for religious and medical reasons address the main concerns. Although the bill never reached her desk, it was deemed unlikely to be signed into law.
Pleasant Valley has vaccination requirements for students, but state law allows for exemptions high school nurse Pam Cinadr considers dangerous.  With the possibility of exemptions based on philosophy, it will be much easier to obtain an exemption. "We will see diseases that we haven't seen in a very long time" said Cinadr.  "It's frightening."
As some states propose legislation to make exemptions easier for parents who are philosophically against vaccinations, the FDA has threatened to step in.  FDA commissioner, Scott Gottlieb, has stated the seriousness of the issue and his opinion on the danger of unimmunized children. "Some states are engaging in such wide exemptions that they're creating the opportunity for outbreaks on a scale that is going to have national implications," Gottlieb said.
As many questions are raised about vaccinations, the states may lose their choice in the coming months. Several diseases have already had unusual outbreaks in 2019.  The state of Washington has had 64 cases of measles in January alone. Des Moines, Iowa also reported several cases of measles affecting children. The FDA continues to monitor the situation, and Gottlieb says states may "force the hand of the federal health agencies."
About the Writer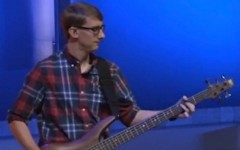 Trevor Glaum, Business Manager
Hi!  My name is Trevor Glaum and I am one of the business managers of the Spartan Shield Online.  I am a senior at PV and I enjoy running Cross Country....