Zimmer named new Director of Secondary Education
Hang on for a minute...we're trying to find some more stories you might like.
A unanimous Pleasant Valley School Board decision on Monday approved Mike Zimmer, current principal of Pleasant Valley High School, to serve as the district's new Director of Secondary Education beginning this summer.
In previous years, the board would hold interviews for both internal and external applicants. However, with the many administrative changes the district will face in the coming year, board members found it best to take a step back to find the best possible person for the position.
The assistant superintendent position has historically been a one- person position in the PV district. New goals, however, prompted the current superintendent, Jim Spelhaug, and the current assistant superintendent, Brian Strusz, to reconsider that position.
The 2019-2020 school year will bring several administrative changes. Spelhaug will retire in July, leaving the district's leadership in Strusz's hands. The assistant superintendent position will then be split into a redesigned two positions to better serve the district's students.
"It makes sense to have someone focus on the PK-6 level and to have someone at the secondary level," Strusz said. The district wishes to maintain the same goal of having students become successful after high school, just more efficiently.
The new position for Director of Secondary Education was posted and drew several interested candidates. After interviewing, however, Spelhaug and Strusz concluded it was in the district's best interest to consider an internal candidate. Recommending Zimmer to the board meant the district could utilize his knowledge and experience in secondary education—and with Pleasant Valley— to help create and establish this new position.
Zimmer is excited to begin working in his new role, starting by looking more at ACT and MAP scores to see where students are slipping—this kind of data is just an example of the kind of information the district hasn't previously been able to fully utilize without the proper position dedicated to doing so. "There is always room for improvement," Zimmer stated. "This is just one area we are taking a look at."
Zimmer sees one of his first year challenges as making a name for himself, and his new title, at the junior high. He hopes to bridge the gaps between junior high and high school math and reading for a more fluent grades 7-12 education.
Adding to the several administrative changes in the coming year, Zimmer's promotion will create the vacancy for a principal at the high school to be posted immediately.
The district has high hopes in the new direction PV education is going. Strusz shared this enthusiasm with high school staff, stating "Mr. Zimmer understands our current needs as well as the vision to advance learning for all students."
Cindy Lewis has already been named the future Director of Elementary Education. Strusz, Lewis and the newly appointed Zimmer will start working in their new roles later this summer.
About the Contributor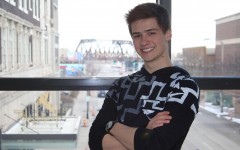 Odin McDonald, Photo Manager
Hey! I'm Odin McDonald, one of the photo mangers for the Spartan Shield Online. I am very excited to be able to create content for all readers and listeners...