Spring Break Bookclub
Hang on for a minute...we're trying to find some more stories you might like.
As students look forward to enjoying their week off, they may be searching for a good book to read. Here are some suggestions from Pleasant Valley teachers.
Sarah Russell's favorite historical fiction book is "11/22/63" by Stephen King.Unlike King's famous horror stories, the plot is centered around the assassination of president JFK. Russell thinks this is a good book for all students. "I would highly recommend this book to anyone who enjoys historical fiction. Not only is it well written, but the historical aspects are very well researched."
Bill Myatt has more than just a favorite book, he has a favorite author: Robert A. Heinlein. If he had to choose, his favorite two books from Heinlein are "Starship" Troopers and "Stranger in a Strange Land". Starship Troopers is about a group of young students who enlist in the military to protect Earth from a race of alien 'Arachnids' and is similar to the book, Ender's Game.
"Stranger in a Strange Land" is different than most Sci-Fi books. The book focuses around a child who has lived on mars his whole life. In the book he returns to earth and the book explores all the problems he encounters.
Ian Spangenberg recommended the book, Packing for Mars by Mary Roach. This book details the immense challenges associated with human missions to Mars. "To a rocket scientist, you are a problem. You are the most irritating piece of machinery he or she will ever have to deal with. Humans are very difficult, both psychologically and physically, and this book lays it all out there. Highly recommended," Spangenberg said."The Rain in Portugal: Poems by Billy Collins" is a collection of poetry that Kevin Gaffney recommends. "This former Poet Laureate of the United States has one of the most playful voices in modern poetry. His poems, often delivered with wry humor and dry understatement, detail the small epiphanies that can take place during the ordinary aspects of daily life," Gaffney stated.
While students are away for the week, teachers encourage them to continue learning. They hope that these suggestions will give them a couple good options to explore.
About the Writer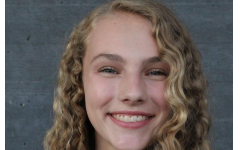 Alyssa Paulson, Photo Manager
Hello my name is Alyssa Paulson and I am a photo manager here at the spartan shield online. In my free time I enjoy playing the bass, piano, and participating...