Girls' golf swings into the new season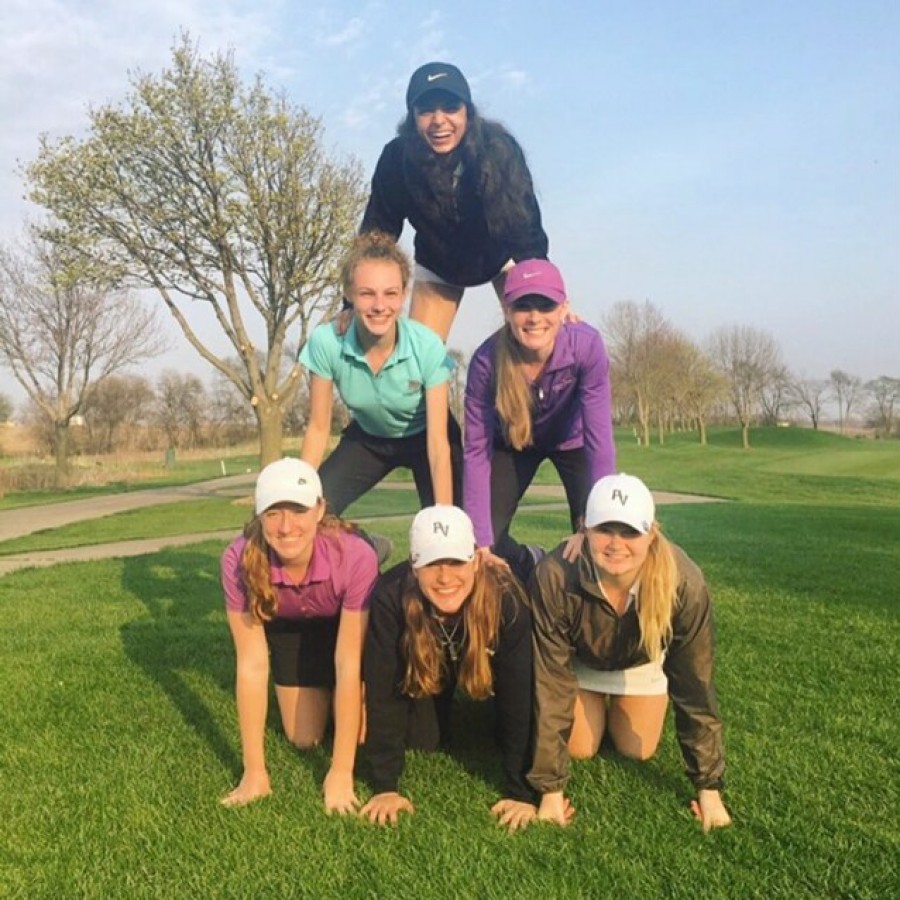 The Pleasant Valley Girls Golf Team prepares for a new season in the spring of 2019.
The 2019 season of girls golf is during the months from February to June. However, this season is different. It brought a change to the team: a new coach.
Nikki Palmer, the coach of the girls golf team during the season of 2018, was no longer able to coach the team as a result of her pregnancy and priorities regarding her family. With the coach position open, Mike Nedelcoff was able to fill it.
Senior Alyssa Paulson thinks that having Nedelcoff as the season's coach will be very beneficial. "I think that the season will go very well due to the fact the coach is very knowledgeable and I think that he is going to lead our team to success," she said.
Although Nedelcoff was the boys golf team coach for three years, he is only going to coach for the girls golf team during the 2019 season. Under his leadership, the boys golf team had many accomplishments, including going to the IHSAA Boys 4A State Golf Championships and placing second there with a score of 296.
Senior Lillian Parker also thinks Nedelcoff will be a good coach for the girls golf team due to his success with the boys golf team. "I think that it'll be a very successful season because he led the boys golf team to state. When I attended the clinic Nedelcoff held, he really helped improve my golf swing and techniques and saw immediate results," she said.
The girls golf team last went to state as a team in May of 2017. In 2018, an individual member, Ingrid Hoffman, golfed at the 2018 IGHSAU Class 4A Individual at State Tournament and placed 74th. Paulson shared her goal for the upcoming season, "I would love it if we as a team went to state and brought back our winning streak," she said.
The 2019 girls golf team consists of 12 members: Olivia Bowe, Erin Douglas, Lauren Groenenboom, Ingrid Hoffman, Erika Holmberg, Jillian Keppy, Alana Kruse, Elizabeth McVey, Lillian Parker, Roshni Patel, Cecilia Patramanis, and Alyssa Paulson.
The team practices at the Hiddle Hills Golf Course, Bettendorf, IA. Currently there are optional practices indoors. The girls golf will have their first meet on April 4 at Geneva CC in Muscatine. The team will be golfing against opponents Central and Muscatine.
With the boys golf team coach in charge, the season is full of hope for a chance at state. 
About the Contributor
Trinity Malmen, Staff Contributor
Hello, my name is Trinity Malmen.  I am a senior at Pleasant Valley High School, and a staff contributor of the Spartan Shield Online.  Outside of Spartan...