Status: grounded
Hang on for a minute...we're trying to find some more stories you might like.
March was a troubling month for the airplane company which has led the industry for over 100 years.  March 10 brought the second crash of the new Boeing 737 Max 8 model airliner.
The 737 series is Boeing's highest selling jet through its long history.  The first 737's were produced in the 1960's. The next generation was introduced in the 1990's and has since been updated in the last eight years with the release of the MAX series.  The project started in 2011, and by 2015, the first MAX series plane left the factory.
The MAX plane was tested and certified over the next couple years; in May of 2017, the first MAX series plane entered service.  The plane, a MAX 8 model, flew transatlantic flights out of Edinburgh, Scotland after being delivered to Lion Air. Within a year of the first MAX series plane entering service, 130 planes had been delivered to customers and carried over 6.5 million people.  
Boeing received over 5,000 orders for the planes, which is almost 35 percent of all 737's ever flown in the last 50 years.  In October of 2018, a MAX 8 plane, flown by Lion Air, crashed into the Java Sea. The airworthiness of the plane was quicked questioned by most countries.  
At the time, the FAA confirmed to doing evaluations of both the plane and their procedures.  "The FAA and Boeing continue to evaluate the need for software and/or design changes to the aircraft including operating procedures and training as we learn more from the ongoing investigation," according to their official statement.  
Less than six months later, another 737 MAX plane crashed.  Ethiopian Airlines flight 302 went down six minutes after takeoff killing 149 passengers.  Both crashes involved planes with less than six months of service. The Ethiopian transport minister released a statement saying "[the crew] performed all the procedures repeatedly provided by the manufacture but was not able to control the aircraft."  
The FAA released a statement regarding the crashes and what to expect in the coming months.  "The investigation by Ethiopian authorities remains ongoing… We will continue to work towards a full understanding of all aspects of this accident."  Countries such as Canada have declared all MAX 8 planes to be grounded through July 1 pending the investigation.
Boeing is working on software fixes and new pilot training to correct the procedures contributing to the two crashes.  Until they pass certification, inspection, and tests, the MAX series planes will remain grounded from all commercial flights in or out of a United States airport.
About the Contributors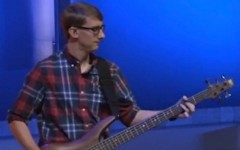 Trevor Glaum, Business Manager
Hi!  My name is Trevor Glaum and I am one of the business managers of the Spartan Shield Online.  I am a senior at PV and I enjoy running Cross Country....