Studious spring breaks
Hang on for a minute...we're trying to find some more stories you might like.
Although Pleasant Valley was on break March 11th-15, many spartans continued to learn through educational spring break trips.
Junior Amy Oberhart visited Vancouver and on her trip she visited Gastown, the oldest area in Vancouver where she learned a lot about the history of the town. "We learned about how Gastown was built on the water and followed the shoreline, while the newer areas of vancouver are on the grid system. We also learned about the old logging trading that happened there," she said. The vast historical knowledge Oberhart acquired from this trip makes her want to learn more about every city she visits going forward.
Senior Emma Tews learned about her faith and human nature while on a mission trip to Chicago. "There's a lot of unfairness in the city that I had never realized. Most people only see the center of the city, but even slightly outside that there is a lot of poverty going on. Student's are having to be walked to school for their safety and there is an overflow of crime," she said.
There are many problems within the city that the general public does not see, but the poverty levels are really decreasing and with that comes many good things and Tews happy to join in the process, "I love volunteering and can't wait to do more. Everyone was so gracious. It is easy to only see the good in a city but it is important to seek out those who need help," she said.
Senior Caroline Christophersen went to Taos, New Mexico and lived in an Earthship for two nights. "Earthships are a form of sustainable housing they created in Taos and they are incredible. The amount of thought that went into how to minimize waste from the food we eat to the water we use is amazing," she said. Christophersen is looking forward to going back to the Earthship community this summer and learning more about sustainable living.
Christophersen also went to Georgia O'Keeffe's home, and hiked along the paths O'Keeffe used to travel when attempting to find inspiration for her paintings. "Georgia O'Keeffe was a great lady who was living minimalistically and independently way before her time. She has inspired me to look for the beauty in everyday life," Christopherson said.
It is safe to say Spartans have used their time off of school to learn about the world around them, but now, it is back to school until summertime.
About the Writer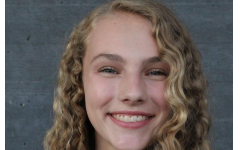 Alyssa Paulson, Photo Manager
Hello my name is Alyssa Paulson and I am a photo manager here at the spartan shield online. In my free time I enjoy playing the bass, piano, and participating...