What is happening in Bettendorf?
Hang on for a minute...we're trying to find some more stories you might like.
Although many people's initial thoughts of spring are centered around warmer weather and greener surroundings, spring also means the start of construction. Bettendorf is constantly growing, and there are many great things being added to the town.
From the most recent and notable addition to Bettendorf, the TBK Sports Complex. The TBK Sports Complex, as well as the surrounding area, has become a popular place for businesses. Hurts Donuts, Coffee Hound, The Cheesy Cow, and Subway are all apart of the additions in the newly popular area.
Bob Gallagher, the mayor of Bettendorf, said there are many new things coming to Bettendorf this year. "The construction at TBK Sports Complex continues at a fevered pace. There will be a new hotel, a Enterprise Car rental, and more restaurants on the corner of Middle Road and Forest Grove," said Gallagher.
Senior Megan Dague, who lives in the neighborhood across from the TBK Sports Complex, has mixed feelings about the new traffic surrounding her neighborhood. "I'm looking forward to all the new restaurants; it is nice that there are restaurants so close, but all the traffic [at those restaurants] is not so nice," said Dague.
In front of the Middle Road Hy-Vee, there will be a new Hy-Vee gas station in place of the old Govenor's. On the AAA Court, located off of Middle Road, there is a new building of market rate condos being built.
The Strategic Behavioral Health project is moving along at the end of Tanglefoot Lane.  This new treatment facility will provide therapy to those suffering from mental illness and addictions.
"The downtown [area] is the council's number one priority," said Gallagher. In the downtown area, in addition to the Ascentra Credit Union Corporate Headquarters and The Bridges Apartments, there will be another city block being constructed this season right across from The Bridges. It will be a multistory, multi-use use building that will house restaurants and commercial businesses.
The start of spring also means the start of many new things, one of which will always be construction. The new additions to Bettendorf will continue to grow with the population and its citizens.
About the Contributor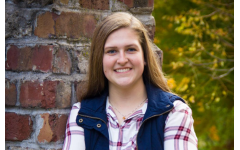 Bri Brauner, Social Media Manager
My name is Bri Brauner and I am the social media manager for the Spartan Shield Online. I am a Senior and the past four years I have been apart of the...