2019 Love Awards promotes female empowerment and unity
Hang on for a minute...we're trying to find some more stories you might like.
When Jasmine Babers was 15 years old, she started a nonprofit magazine that had one main message: every girl has a story.
After seeing how a friend was callously bullied by her classmates, Babers knew she needed to make a space for girls everywhere to feel safe. To Babers, every girl, no matter what they looked like, deserved to feel confident enough and important enough to be featured on the cover of a magazine.
So, with $100 and a crazy idea, she began Love Girls Magazine. Although many doubted that a 15-year-old could actually make a difference, Babers defied all odds; she created a magazine in 2012 that has since expanded to have locations not only in the Quad Cities but in Memphis and Washington DC.
Although Love Girls Magazine is directed towards an audience of 14-21 year-olds, it teaches empowerment to and celebrates all women. For Pleasant Valley senior Mariah Martinez, this stance was appealing and eventually became one of the reasons why she ended up joining the magazine staff.
Martinez first heard about Love Girls Magazine from her mother. "I was initially forced into [joining] by my mom; she wanted [me to have] a positive influence and mentors." However, after attending a meeting, Babers stopped Martinez and told her that it seemed like she belonged there.
Baber's kind nature helped persuade Martinez to join the magazine staff. Martinez expanded on this. "[Babers] finds people, holds onto them, and doesn't let them go." That experience proved pivotal for Martinez. Now she is an integral part of the magazine, serving on the board and spending many hours per year on it.
As Martinez has become more involved, she has drawn other people into becoming involved as well. One of these people was fellow senior Mackenzie Wisneski. For Wisneski, it all began on the treadmill in gym class. That was where she first heard about Love Girls Magazine.
When Wisneski heard about Martinez's passion for the organization, she knew it was something special. "I knew it was not a cookie-cutter organization that was depersonalized, the people involved actually cared. When I saw how passionate and excited [Martinez] was, I knew there was no way it was not worth it," Wisneski said.
The magazine's work over the course of the year all culminates in two main events: the Love Awards and Girls on Fire. Girls on Fire is a storytelling conference that encourages young writers to pursue their interests in writing. The most recent event, however, was the Love Awards, held on April 19th at the Taxslayer Center.
The main goal of the Love Awards serves as a powerful example of female empowerment: to honor amazing women in the community by coming together to celebrate them. The theme of the awards this year, HERstory, was consistent with this mantra.
This year, the community certainly came together; every chair in the TaxSlayer conference room was full. The room itself was over-capacity. Wisneski spoke of the empowering experience. "The experience as a whole was so uplifting. Everyone came there to support each other and everyone wanted to be there."
Eleven awards were given this year, each winner a woman or women nominated by someone in the community and chosen by the board. This year the winners were Nina Lancililoti, Nia Walker, Lily Chen, Justyus Jackson, Kaylie Barnett, Elise Brown, Juana Perez, Jenna Dunlap, Peyton Shaffer, Juliana Rounds, Meredith Dennis, Jessica Elliott, Esther Zawadi, Cristina Lopez, Anna Rowell, and the Women of Impact.  
So many of these women have amazing stories. For example, Elise Brown, a recipient of the Little Loves Award–an award given to girls 12 and under–was the first girl in her cub scout troop.
This year, the Love Awards also added a new award in honor of Amy Rowell, an inspiring woman and director of World Relief. A few weeks before the Love Awards, Rowell passed away, but not before submitting a six-page letter nominating her daughter for an award.
At the Love Awards Rowell's daughter Anna was the first-ever recipient of that new award. Tears were flowing freely in the audience as Anna Rowell went up and accepted it.
The event also hosted all kinds of talent. The magazine strives for inclusivity, and their talent represented that, featuring artists from many different cultures. The event also had many different sponsors and merchandise; many event-goers left with Love Girls Magazine goods.
With this large event over–which Martinez lovingly terms her "baby"–Love Girls Magazine is ready to move on to its next project. However, the lessons that the Love Awards and Love Girls Magazine have taught Wisneski and Martinez continue to be carried on with them as they move forward to the next project and beyond.
Martinez expanded on this. "The magazine has truly taught me, as a whole, who I am as a person. Through it, I can stick up for myself and be able to factually back it up." She especially loves the magazine's "message of compassion and loving people."
Wisneski, although involved for less time, has also learned many of these lessons. "I realize the value of the individual; everyone has a story. The people involved will always respect me as a person, and being in the presence of these amazing women has truly humbled me."
Martinez and Wisneski are looking to make a difference through Love Girls Magazine and the Love Awards. Martinez stated the necessity of this. "Seven out of ten adolescent girls do not believe they are worthy enough. But, if you do not love yourself, that leads to the wrong mindset." Love Girls Magazine seeks to change this statistic through women supporting women.
Martinez continued. "Women have been trained to compete; however, women should not be competing, but [rather] helping and raising and supporting each other. [Through Love Girls Magazine,] girls become connected."
Love Girls Magazine name is telling of what it hopes to accomplish: spreading love throughout the community, both with women loving women collectively and with women loving themselves individually.
About the Contributors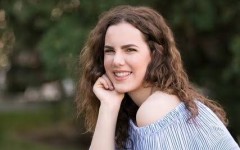 Sarah Danielson, Copy Editor
Hello! My name is Sarah Danielson, and I am so excited to be a copy editor on the Spartan Shield this year. As an avid lover of grammar, I am ready to...