Student survey looks to improve overall school environment
Hang on for a minute...we're trying to find some more stories you might like.
With the school year coming to an end, the administration required students to participate in a survey during gym class last week. The survey looked at things concerning everyone's experience this year.
This year is not unlike any before it though because students take a survey of this sort every year. The questions range from things like safety at school to how much students feel their work is recognized. While students may see the survey as a hassle, it can be a great tool to see what changes can be made to the school that could be beneficial for the future.
Senior Ben Royer shared how the survey has some positives."I think that it's a great idea for the school to see what changes need to be made. Each year is different so it makes sense why they do it every year," he said.
Pleasant Valley High School principal Mike Zimmer explained the reasoning behind the survey. "PVHS administers two student surveys, one survey (Conditions of Learning) is required by Iowa Department of Education and the second is required by the school board," he said. Zimmer also shared information about the Conditions of Learning Survey that we took during gym, stating, "it is used to improve safety, student engagement, and overall learning environment."
Although at first look there seems to be no problems with the survey, there still is one overarching problem. Some students may not take the survey seriously for a variety of reasons. "Because we have to take it during gym or lifting I can see why people want to get it over with. Some might just want the rest of the period off or leave morning lifting early when they get it done," said Royer.
With minor changes to be made, the end of the year survey looks to continue to be a great tool for the school and how it progresses. With it being such a simple task it is surprising how much impact answering some questions in a truthful manner can make.
About the Writer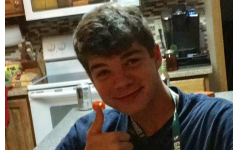 Jeremy Ramsey, Sports Editor
Hello, my name is Jeremy Ramsey and I am one of the Sports Editors this semester. I am currently a senior and plan on attending Iowa State next year to...