Brightest PV minds excite at Industrial Tech Expo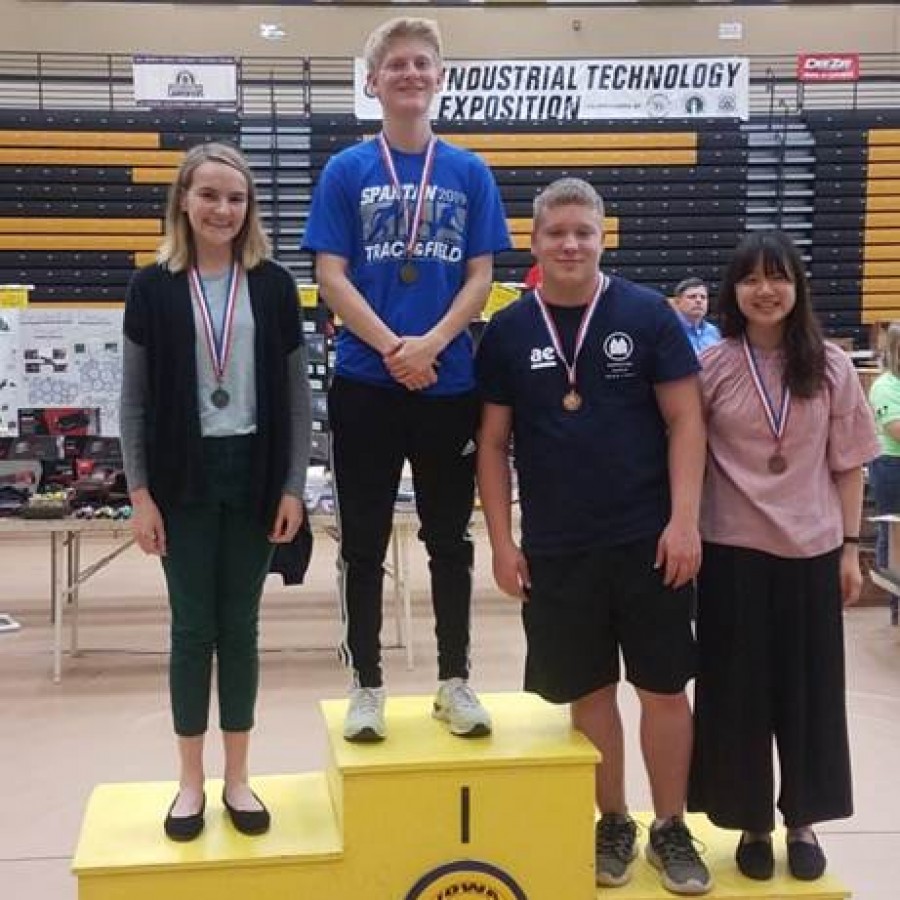 Hang on for a minute...we're trying to find some more stories you might like.
Pleasant Valley's Civil Engineering and Architecture and Intro to Engineering and Design classes received numerous awards on May 10 at the State Industrial Tech Exposition in South Polk, Iowa.
There were two different categories that PV competed in at this event: Architectural Design, in which students created blueprints and a 3D printed model of a house, and Pre-Engineering, in which students analyzed, reverse-engineered and 3D printed a prototype of a drone.
PV students were very successful. Of the eight students who submitted projects, seven placed for awards.
In the Architectural Design category, Cooper Frakes won first place, Emily Preston won second place, and Josh Soultz and Jeanelle Cho tied for third place. Kyra Evjen, Kaley Peterson, and Gillian Oenick worked as a group in the Pre-Engineering competition and received the first place award.
Before Preston, the second place finisher, attended, she was not sure if architecture would be her career path. However, after the Expo, Preston said, "Seeing how much I enjoyed the experience of designing, I have a greater desire to study the field more."
Frakes, a junior at Pleasant Valley, explained that the opportunity to be selected to attend the State Industrial Tech Exposition began with a class project. Students in Civil Engineering started by talking to a guest speaker who informed them of the residential area they would be "building" their house in.
Once informed, the class brainstormed with partners, made diagrams to show the basics of their house, transferred their ideas into a model on the computer, and finally put on the finishing touches by adding in an electrical or plumbing plan.
After grading the projects, the teacher, Matt Stutenberg, handpicked a few students he thought would best represent the talents of PV's architecture program at the Expo.
At the event, Frakes said it wasn't all about competition; he and his peers learned a lot from other projects and professionals. While exploring the work of students from across the state, he said there was a wide variety of impressive projects displayed. "We saw everything from wood tables to Thor's metal hammer," Frakes said.
However, showcasing work from various schools wasn't the only purpose of the expo; Frakes said another goal was "to help draw attention to jobs like welding and machining" or other important tech-related careers which aren't typically recognized.
Based on PV's success at the State Industrial Tech Expo, all of the students who were chosen to attend and received awards have successful futures ahead of them.
About the Contributors
Lilly Parker, Copy Editor
My name is Lilly Parker and I am a Copy Editor for the Spartan Shield online. I am a senior at Pleasant Valley High School, and in the past four years...