Thank you teachers: from the Class of 2019
Hang on for a minute...we're trying to find some more stories you might like.
Dear Teachers,
These last four years of high school would have not been made possible without any of you. So we, as a class, would like to thank you for everything you've done for us, students.
To start, we would like to thank you for always being available before and after school to help us with homework or to help us get a better understanding of what was being taught in the class at the time.
Although most of the time students had no desire to be at school, we thank you for putting up with us on a daily basis. Everyone has those days where school seems like the last place they want to be, and teachers have to deal with that, so thank you.
"Teachers at PV really make us feel loved, and they can always give us a good laugh in the needed times," said Hayden Guenzler.
Many teachers go the extra mile to create long-lasting friendships with their students. These teachers are also there to be role models for the students, which can be very important to many students.
"I am so thankful for the teachers that have been a great role model for me. I'm thankful for those that taught me that learning is not the same as getting a good grade and also to those who have taught me life lessons that I can take with me from Pleasant Valley," said Anna Griffin.
"I am thankful for the teachers that come to school because they want to see their student and build connections with them. [I am also thankful] for those that go out of their way to personally get to know all of their students," said Samantha Riley.
In many cases, students can have a teacher for as long as one semester or even as long as  all four years of school, and because of this, teachers are there to see kids succeed and watch them grow as a student throughout the four years of school.
"I'm thankful for the teachers because a lot of them became a second family to me over the last four years, and it was refreshing to be able to stop school for a minute and to be able to have a conversation with them," said Carter Hoskins.
"They are all accepting to students who have trouble at home and try to help make everything easier for [students]. The teachers try and make an impact on everyone's lives and wants to create connections with students, so they can feel comfortable coming to class everyday," said Lilly Meyers.
Many teachers don't get enough credit for all they do for their students on a daily basis. However, these are the teachers students will remember for the many years to come once they have graduated high school.
Thanks again to all of the Pleasant Valley staff for everything you have done to get our senior class to where we are now.
Thanks for everything,
Class of 2019
About the Contributors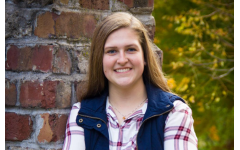 Bri Brauner, Social Media Manager
My name is Bri Brauner and I am the social media manager for the Spartan Shield Online. I am a Senior and the past four years I have been apart of the...