Unplugged: New School Policy Creates Promising Changes
Hang on for a minute...we're trying to find some more stories you might like.
Students at Pleasant Valley High School returned from summer break to find new phone guidelines set in place this August.
The new district-wide policy requires all students to place their cell phones in "parking slots" during each period unless teachers specify phones are permissible for academic purposes. 
Darren Erickson, the high school's new principal, explained this new policy has already developed promising results. "It is early in the school year, but we have had very, very little cell phone violations and negativity on social media," he said. Erickson said he has also seen more responsible cell phone usage among students. 
English teacher Ann Berger independently implemented this policy in her own classroom five years ago. "Kids are paying more attention than they used to," she stated. Berger also believes the phone-free classroom is beneficial for students' mental health. She credits it to creating a more focused and stress-free environment. 
According to Erickson, the creation of the new phone policy has been in the works since the fall of 2018. Former principal Mike Zimmer acquired the idea from Bettendorf High School's principal, Joy Kelly, and the idea was discussed at the MAC Principals' Conference. 
The administration was inspired to adopt this policy after learning of the addictive quality of cell phones and their distraction even when students are not using them.
"If it's even just in your pocket and it vibrates, it's distracting you from your task," Erickson said. "But we were trying to think of the best way to implement [the phone policy] that is respectful to students. We're not saying, 'Leave your phones in your locker or at home.' That's not realistic," he added. Students are still allowed to use cell phones in the hallways, during free periods, or at lunch.  
Erickson is a strong believer in the power and benefit phones can have when used appropriately. He still supports their use for health and education within the context of school, but chooses to recognize their many pitfalls. 
Berger's perspective somewhat differs, as she believes there is little need for cell phones within a school setting since every classroom has access to a landline. She said she has seen the counterproductive nature of cell phones in her classroom and their tendency to take away from students' learning and independence.
"This (cell phone policy) will better prepare students for the real world. This will help kids be more independent," Berger said. "Kids' parents feel they need to be in constant contact, which takes away from that child's learning." 
About the Contributor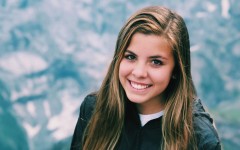 Grace Halupnik, Lead Editor
Grace Halupnik, a senior at Pleasant Valley High School, is highly involved in the school's journalism program. It is her first year writing for the...