Will a ban end an epidemic?
Trump administration promises a ban on flavored e-cigarettes
With cases of vaping related lung illnesses being reported everyday, it comes as no surprise that a juuling epidemic has swept across the country, and in turn, has led the White House to take action. 
On Sept. 11, President Trump and his administration agreed to commence their "war on vaping" and announced plans to ban all flavored e-cigarettes. The main purpose of his agenda is to bring an end to the teenage vaping addiction which has caused an increasing amount of respiratory illnesses. 
The New York Times followed up with this remark, stating, "The recent moves were prompted by U.S. Centers for Disease Control and Prevention (CDC) reports of almost 400 serious lung illnesses and six deaths it linked to vaping." With this in mind, the desire for restrictions on e-cigarettes increased immensely and the Oval Office felt the heat. 
Teens have continued to use various vaporizers, and matters have become even more pressing. "The White House and the F.D.A. have faced mounting pressure from lawmakers, public health officials, parents and educators, who have grown alarmed by the popularity of vaping among teenagers but have felt powerless to keep e-cigarettes away from students and out of schools," said The New York Times.
While news of this ban spread quickly throughout the media, states across the country began to take action. "Just last week, Michigan became the first state to prohibit the sale of flavored e-cigarettes. Gov. Andrew M. Cuomo of New York also called for a ban, and Massachusetts and California are considering similar measures," said The New York Times. State support has been extremely important in this ban's success.
While some might see this ban as a step in the right direction, senior Rece Vining is uncertain of the real impact this ban would make on the U.S. "I doubt moving beyond legislation to an actual ban would result in much change from the present situation among teenage vapers," said Vining. He also questions the potential impact it would have on people that use vaping as a means to quit smoking.
Even with this element in mind, the CDC has sent a letter of accusation to Juul Labs for their manipulation of young teenagers. Flavors like mango and cucumber have drawn adolescents into vaping and have helped to jump-start their addiction. Nonetheless, "Juul has repeatedly denied that it aimed its products at minors, but its sleek devices have become more and more popular and are easy to conceal," reported The New York Times.
Society's future lies in the hands of young adolescents and depends upon the choices they make. The effectiveness of this ban is still unknown, but the hope for better adolescent health is ever increasing.
About the Contributor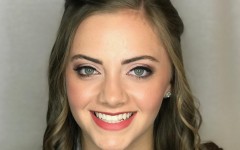 Morgan McCartney, Business Manager
Morgan McCartney loves music and dance. She has been dancing at Above the Barre Dance Academy since she was only 3 years old, and she is currently a member...