Spartans fall to Iowa City West after strong start
The Pleasant Valley football team started out strong, but sputtered as the game played out Friday night against Iowa City West in a 24-7 loss.
The first drive of the game for the Spartans was a long and successful drive that ended with a touchdown. The drive ended with a George Venzke rush from the two yard line. Brandon DePover said, "That drive was successful because we were physical up front on both sides of the ball and it helped motivate us." He said.
On the ensuing drive, the initial play from scrimmage for City West resulted in an 80 yard pass from Marcus Morgan to Tate Crane that resulted in a touchdown. Crane was able to jog into the end-zone without a Spartan defender within 20 yards of him.
Defense struggled heavily this game unlike other games, and the offense only played a role in the first drive. The Spartans need to switch up their offensive playbook in order for them to be successful. With pass plays that seem to work better than rushing plays, the playbook needs to look to a less run based playing style.
Iowa City's quarterback Marcus Morgan threw for 240 yards on 16-19 passing. Morgan was able to sling the ball at will against the Spartan defense that has been used to a stronger opposing running game. The weaknesses of the defense were exploited quickly which made it hard for the team to get going.
After a dominant win last week, the Spartans were left pondering where the success went. Brandon Young said, "We have to win out. Offensively we have to execute better because we have the ability and defensively we have to continue to stop the run and get off the field on 3rd down." He said.
With the Spartans playoff hopes quickly fading away, every game is a must win.
The Spartans travel to Muscatine Friday night to take on the Muskies.
About the Contributor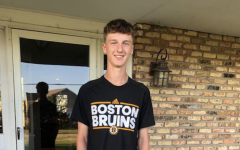 Ian Wilger, Photo Project Manager
Ian Wilger is the sports editor of the Spartan Shield Online publication. As a senior here at Pleasant Valley, he plans on majoring in journalism at an...