Cross-training success: Athletes dive into the world of swimming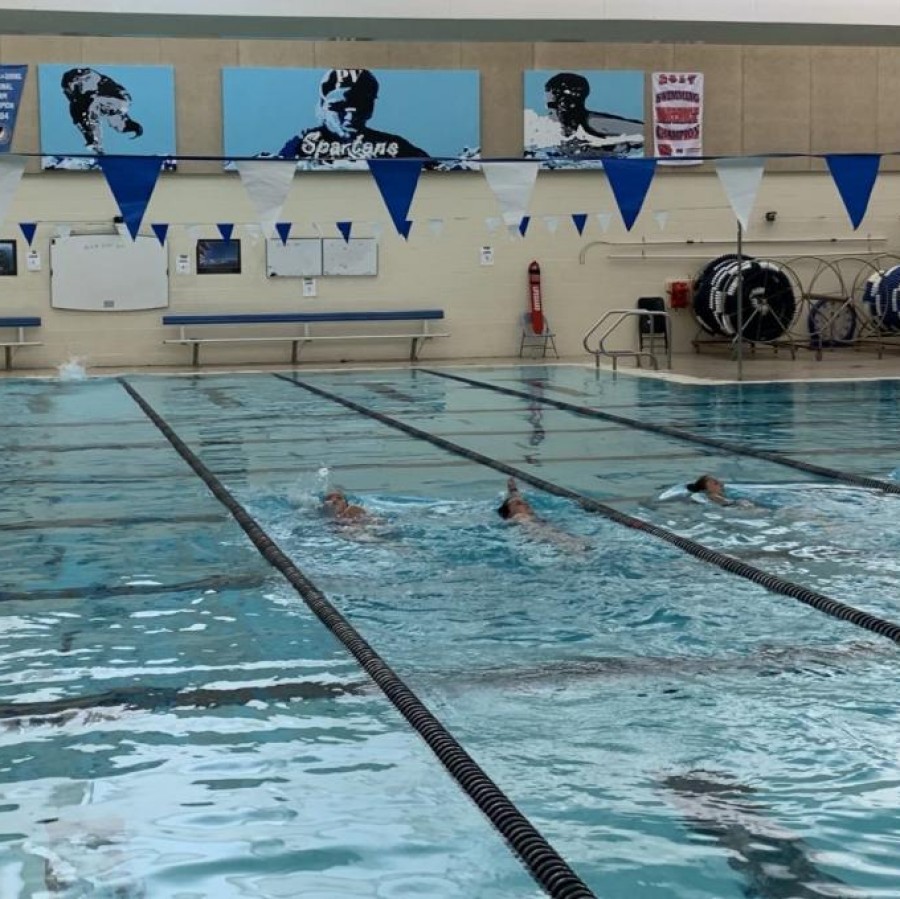 Coaches across the country are discovering the benefits of cross-training their athletes. And less traditional workouts have made a big splash at Pleasant Valley.
The implementation of swim workouts has provided PV athletics with a more diverse training program that has been proved beneficial with much success.
Swimming includes a combination of both muscular strength and cardiovascular endurance. The water supports 90 percent of the body while swimming. As a result, it produces little to no stress on joints of the arms and legs, preventing injuries and enhancing recovery.
The pool can also be the source of a difficult cardiovascular workout. Leading a successful cross country team, Nick Sacco takes advantage of the PV pool for workouts, but more commonly for injuries that his athletes encounter. "It's all resistance training and there's no stress on their muscles," Sacco said.
For most PV athletes, their season lasts for about three months out of the school year. Usually, there are daily practices that often become repetitive. Cross-training can provide a balance aside from the current in-season sport.
The boys cross country team traveled to Fort Dodge, Iowa for the state meet last weekend. High-intensity sports will often taper prior to these big meets. While tapering, athletes take advantage of easier workouts and extra rest so they can perform to the best of their ability at the end of the season. 
While on taper, Sacco encourages his athletes to tread water as it can make their legs feel fresh and gives the athletes a day off from their usual running. "It can also be a mental thing," said Sacco. "If taking a day off of running would help them eventually run faster, then they would go to the pool."
Cross country is not the only sport learning to benefit from swim workouts. The PV softball team also got on board last winter. Head coach, Jose Lara took his pitchers and catchers for multiple sessions during the off-season for team bonding and strength training. 
The backstroke motion of swimming is very similar to the underhand pitching motion in softball. By adding the resistance of the water, these athletes were able to strengthen the muscles that are most likely to be overworked during the season, resulting in proactive injury prevention.
Junior Sophia Lindquist noticed improvements from this cross-training and it set her up for a successful pitching career last summer. Lindquist is able to give some credit to these swim workouts in helping her gain the title of First Team all conference.
"It was difficult at first, however over time I felt myself improving in the pool and in my pitching," Lindquist said. "It always worked my muscles, but it felt good and it was a nice break from just doing the normal workouts in the weightroom."
The cross country team ended their season with a second-place finish at the state cross country meet and the softball team advanced to their regional final. Swimming has not only provided positive results; it leaves teams an opportunity for a diverse selection of cross-training workouts.
About the Contributor
Carly Lundry, Editor in Chief
Carly Lundry is currently 18 years old and a senior at Pleasant Valley High School. When she is not dedicating her time to academics, Lundry enjoys swimming...