REVIEW: Love and lies in Oscar front-runner "The Farewell"
Alyce Brown, Arts and Entertainment Editor
November 25, 2019
"The Farewell," the sophomore film from director Lulu Wang, is beautifully built on Wang's own experiences and brought to life by perfectly painful acting performances.
The film centers around Billi, a young Chinese-American woman living in New York City.  She shares an especially tight bond with her grandmother in China, known to her as Nai Nai, and is heartbroken when she discovers that Nai Nai has been diagnosed with terminal lung cancer.  
Her very traditional Chinese family opts to keep the diagnosis from Nai Nai, hoping to allow her to enjoy the last few months of her life without worry.  Instead, a fake wedding is planned in China as an excuse for the family to travel home and say their goodbyes.
What ensues is an emotionally wrought experience for all family members as they try to hide their concern and sadness behind wedding planning.  Through it all, the special relationship between Billi and Nai Nai takes center stage, leading Billi to grapple with important questions about her love and guilty conscience. 
The cast is led by a brilliant performance from new star Awkwafina (Ocean's 8, Crazy Rich Asians) in the film's lead role.  Taking on her first dramatic role, she slides into the title with fluidity and ease as she portrays both excruciating pain and consuming adoration with perfect accuracy.
Her aptitude at displaying the suppressed emotions and confusion of Billi brings reality back to every scene; a reminder that even in the happy moments, the diagnosis always plagued the feelings of the family.
Awkwafina's performance is supported by the rest of the film's sizable cast.  Nai Nai is played by Chinese actress Zhao Shuzhen, delivering an innocently heartbreaking picture of her character's oblivion to terminal illness.  Rounding out the inner circle of family members are Hong Lu as Nai Nai's sister, Tzi Ma (Mulan, Arrival) as Billi's father, and Diana Li as Billi's mother.
As far as the production quality behind the camera, Director of Photography Anna Franquesa Solano plays a sizable role in creating the emotions with which the film overflows.  
"The Farewell" has a wide variance of shots and angles, each with its own technical purpose and each evoking unique emotions and undertones.  While obviously an emotional story, the film is also family-centric, which the commonality of wide shots utilised by Solano reflects.  
On the topic of family shots, Solano told Filmmaker Magazine, "The film revolves around family unity; that led us to take an objective approach to the visual language. It called for a wide aspect ratio that could include as many family members as possible in the frame."  
Well-framed, Solano's wides allow for audiences to feel the hustle and bustle of a traditional Chinese family while still expertly focusing in on Billi's individual emotional journey.
While the wide shots add valuable pieces to the film, the emotional impact truly comes from a bounty of heart-wrenching close-ups.  Long, lingering shots on faces full of exhaustion, eyes brimmed with tears, or foreheads wrinkled with concern perfectly display the emotional toll that the film's conflict has on Nai Nai's beloved family members.  These painful yet superb pictures of wordless emotional distress draw audiences in and tie their feelings to those of the characters.
As far as other behind-the-camera roles, production design by Yong Ok Lee paints a world of mainly muted colors that perfectly encapsulates the atmosphere of the film, and music composition by Alex Weston is a beautifully composed cornerstone for the story's highs and lows.
The few flaws of the film fall upon the script, written by the film's director Lulu Wang.  While no major flaws arise that hinder enjoyment of the film, it seemed as if some key aspects were glossed over and not given due focus, with one such area being the development of Billi's character. While still overall likable and humorous, her personality is a bit archetypal for a film of this caliber.  Her character is the traditional Chinese-American daughter stereotype — a young woman trying to have her own ideas, very "independent and fierce"– a rather basic character format that seems out of place in a film as well-developed as this one. 
Despite minor oversights, "The Farewell" is a beautifully developed story rooted in phenomenal acting and genuine emotions.  After being drawn into the lives of these heartbroken characters, the film will, as one of its promotional taglines says, encourage you to "Call your grandma."
About the Contributor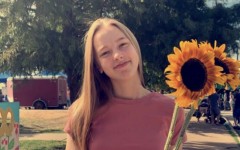 Alyce Brown, Arts and Entertainment Editor
Alyce Brown is the Arts and Entertainment section editor for the Spartan Shield Online. She's  thrilled to be able to share news from the PV community...