In the dog house: University shamed for live mascot treatment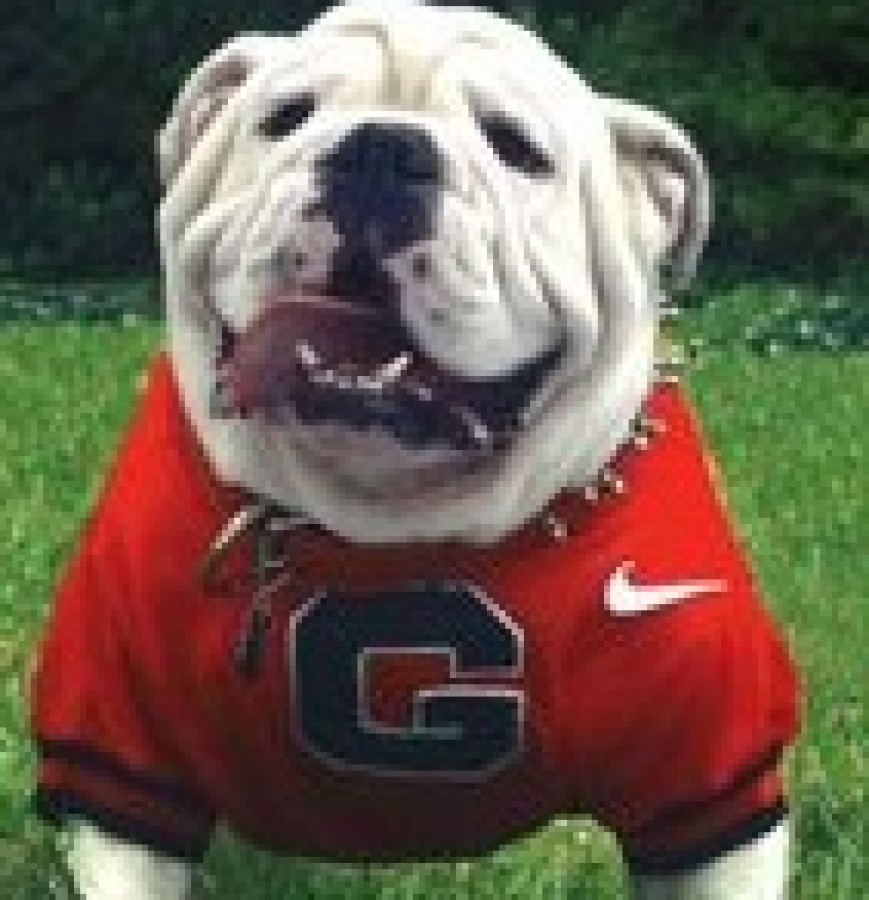 "Lions and tigers and… bulldogs?" Several collegiate teams have recently found their colleges making headlines for their use of live animals as team mascots.
University of Georgia (UGA) is one of many collegiate organizations that have received backlash from People for the Ethical Treatment of Animals, better known as PETA. UGA was criticized for the treatment of their beloved live bulldog mascot, Uga. 
PETA responded to a broadcast clip of Uga sulking in the corner of his doghouse in the pouring rain during Georgia's victory over the Texas A&M Aggies on Nov. 23.
"HE LOOKS MISERABLE. No dog deserves to be packed up, carted from state to state, and paraded in front of a stadium of screaming fans," PETA tweeted. 
Another of PETA's tweets said, "Dogs are sensitive. UGA Athletics forces Uga into stressful situations at chaotic football games. He was almost TRAMPLED at a game earlier this year." 
The mascot coordinator for Major League Baseball's Arizona Diamondbacks said, "The bottom line is that a human mascot can do far more than a live animal mascot [and can do so] with fewer headaches."
Like any story, there are always two sides. Many have responded saying that Uga is treated better than anybody in the state of Georgia. According to an article from Business Insider, he currently lives a very normal dog life in Savannah, Georgia with his family, the Seiliers.
Uga has a publicist, a lawyer and an agent, and is treated like royalty according to students on the University of Georgia's campus. He rides around in a golf cart and even has his own suite in a nearby hotel, where he gets a bath before every home game.
And his dog house that he was seen "sulking" in on television is on the sidelines right next to the cheerleaders every game is fully equipped with A/C and plenty of shelter to protect him from the elements.
Although it looks like Uga is living a pretty decent life, people still feel that live-animal mascots are archaic. But the one thing that greatly sets Uga apart from the rest is that he is a house pet with a family and a home, not an exotic animal, such as the Baylor Bear.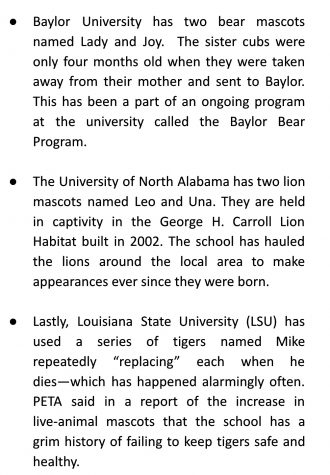 While PETA took the lead in the battle for mascot animals' rights, many have climbed aboard the bandwagon. Senior Olivia Marchiori understands the concern. "I think they need to open up more to the public about how [Uga] is treated," she said. "A dog might enjoy social events but as for other exotic animals who would not like human contact, that might be a really bad thing." 
Between the longstanding tradition of having a live mascot for numerous university sports teams and those who push for greater animal rights, it is clear that the debate over using animals for team support as well as crowd entertainment won't be over soon.