How to fly through the airport: Holiday Edition
Hang on for a minute...we're trying to find some more stories you might like.
As the holiday season rounds the corner, Americans are expected to set record-breaking numbers when it comes to air travel with nearly seven million people flying.
The airport environment is unique. There are thousands of travelers in airports all across the nation rushing to reach their destination while hoping for no significant security or flight delays. 
When entering an airport, most people check-in at the airline counter, grab their tickets and drop off their checked baggage. Then everyone must make their way to the ever infamous TSA security checkpoint. At smaller airports, it is not normally a hassle, but for many Americans traveling through large hubs, they will have to make their way through some of the busiest security checkpoints in the nation.
Many PV students will fly this holiday season, with Chicago O'Hare International Airport being a common departure hub. Sophomore Sydney Dolphin is a frequent flyer and notes that security is a stressful factor of traveling. She points out that "Chicago O'Hare security lines are a major stressor for our family when we travel and force us to arrive much earlier to the airport than we would like," said Dolphin.
Her family normally arrives at O'Hare two hours before the flight's departure. This is common for many travelers departing from busier airports. But there are numerous ways to reduce waiting time in the TSA lines. 
Before arriving to the airport, download the airline's app on a smartphone to access the boarding ticket. This takes away the waiting time in line to pick up a boarding pass from an agent. If no checked baggage is required, then the passenger can move straight to security. For each stage of trying to get to the departure gate, there is a way to reduce wait time. 
TSA PreCheck is a common feature that frequent flyers utilize. It allows people to enter a special line for Precheck approved passengers only. It requires a two-step application and costs $85 for a five-year membership. If the application is approved, it means a person is considered low-risk by the Transportation Security Administration and the Department of Homeland Security.  
PreCheck allows people to keep their shoes on and leave electronics and liquids in their carry-on bags. This feature allowed 93% of PreCheck passengers to get through security in five minutes or less last month. The speedy process is utilized in over 200 airports by 9 million people.
But that is not the only service out there that has the goal of speeding up security wait times. CLEAR is a service that allows passengers to skip the line to get their ID checked. The system utilizes fingerprint and iris scanners to bump people to the front of the line, get their boarding pass checked, and then enter the physical screening. It is similar to Precheck and costs $179 per year. 
If a passenger does not have either of these services, they will be forced to face the normal security line with increased wait times and more tasks to do. But there are still other things that one can do to reduce their time in line.
The first step in a checkpoint is to get the boarding pass and ID checked, so having those two pieces in-hand and ready will ensure a smooth transition into the physical screening. The next step is taking shoes, belts, and heavy jackets or coats off and putting them in a bin to get x-rayed, along with any wallets, phones, or metal objects. The TSA reminds travelers to "limit your liquids, gels and pastes to no more than 3.4 ounces in 1 bag that's no bigger than 1 quart," it states. 
Once everything is ready to be x-rayed, the passengers will be sent through a body scanner. Current metal detectors are quick and take seconds to get through, but the TSA is in the works of finding better and more efficient technology. 
After passing through the body scanners and grabbing personal belongings, the passenger is ready to head to the gate and relax before boarding the plane. Traveling can be stressful, but it doesn't have to be. There are many ways to limit stress while traveling and starting with more efficient ways of passing through security is a strong start.
About the Writer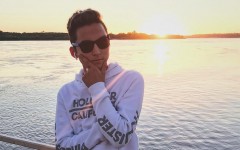 Nate Martell, News Editor
Senior Nate Martell is an active member of Pleasant Valley High School. Along with being the news section editor with the online Spartan Shield, Nate is...