Heading into the roaring 20s with increased representation across the nation
Throughout the twenty-first century, there have been several advances made within aspects of society such as technology, science and education. However, within the last decade specifically, representation for a wide variety of groups of people has begun to be more prevalent  within the media. 
On Oct. 11, 2016 James Charles was announced to be the first male model on the front page of the Covergirl magazine. He received this opportunity as a result of his skills within the beauty community, specifically his unique and colorful makeup looks.  
"I think it was important Covergirl had a male on its cover," said Senior Amy Oberhart. "[Makeup] is an expression of art and whoever wants to do it can."
Charles is also a part of the LGBTQ community. While his representation on Covergirl not only helped to spread awareness about men within the makeup industry, he was also a part of increased representation of those within the community in the past decade.
In 2017, Danica Roem became the first openly transgender state legislator. She was elected within the state of Virginia, succeeding over her homophobic openent during the elecetion, Bob Marshall. 
Oberhart stated, "It's important for every person to feel like they are represented in some way in the media. Minorities can see others like them accomplishing their goals, which can be empowering." 
While large steps were made for representation of those within specifically the LGBTQ community, other groups were showcased in the media in the past decade as well.
In 2018, Gerber named its first spokesbaby with Down syndrome. Lucas Warren from Dalton, Georgia was only one year old when he was selected as the winner of their annual contest. Though the contest has been going on since 2010, their first selection of a child with a disability occurred eight years later. 
Senior Elise Johnson observed the lack of representation for those with disabilities within the media. "I think it's really important to increase the number of people with disabilities being represented today," she said, "I can't think of one large company really puts in the effort to make sure all types of people are being included in their messages."
According to a study completed in 2019, people of color within the media have also gained representation over the course of the past decade. The study reported that eight out of ten scripted shows for the age group of those between 18-49 include a cast of people that is at least 21% people of color. 
Though representation within the media is by no means perfect, there have been multiple strides taken by several members of society within the last decade to make it better. A wide variety of groups has gained representation within the media, ensuring progress for equal representation across all groups and platforms.
About the Contributor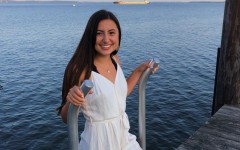 Kate Stewart, Copy Editor
Kate Stewart, 17, grew up in Muscatine, Iowa, and moved to Bettendorf in 8th grade. She has used her time here at Pleasant Valley High School to get involved...