Making a splash: PVJH swim team celebrates new inclusiveness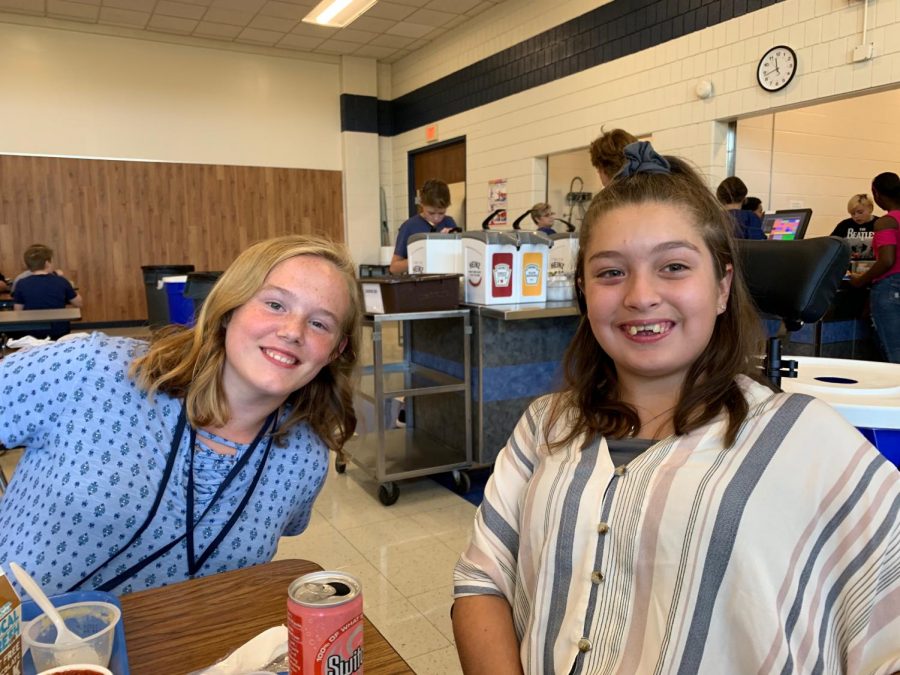 Pleasant Valley Junior High's swim team has 74 participants. There have been many participants that have swum for PVJH, but it is not very often that people see anyone with disabilities on the team. However, in January 2020, Madi Ramirez and Jazzie Zupancic officially joined the PVJH swim team. 
Madi has Spinal Muscular Atrophy (SMA), a genetic disease affecting the central nervous system, and 15q Duplication, a syndrome which results from chromosome 15 being duplicated, and this is what causes her seizures, ADHD, a learning disability and being on the spectrum. 
Madi's mother, Megan Ramirez, had to work through a long process for Madi to be able to join the swim team. Megan talked to and coordinated with the PVJH principal, Michael Peakin, and the swim team coaches, to plan a meeting for her and her husband, Tom Ramirez, to discuss Madi joining the swim team. 
In the meeting they covered what safety issues were present and the logistics of Madi being on the team. Megan and Tom's biggest concern was her having a seizure in the pool. In order to help ensure Madi's safety, her aide, Missy Dippel, will be in the pool with her at all times. 
She will also be meeting with her instructor, Zach Miller, a PVHS science teacher, prior to the team swim practices in order to get more individual help with swimming. Later on when the rest of the team arrives, she will get out of the pool and act as a team manager and do tasks such as timing. 
Madi's well-being was a crucial factor in deciding whether she could be on the team or not. "I felt like the school was hesitant at first. They were definitely worried about the safety aspect of it," said Megan. "They asked a lot of questions. I don't think they ever envisioned Madi out of her chair and what that might look like."
Jazzie has an intellectual disability and PTSD, Post-Traumatic Stress Disorder.
When Jazzie found out that her friend Madi had signed up to join the swim team, Jazzie decided that she wanted to sign up also. "This was not something that we had discussed and I loved that she took the initiative and felt comfortable [or] confident enough to sign up," said Kim Zupancic, Jazzie's mother. 
However, Kim also had concerns in relation to Jazzie joining the swim team. "When I went through the packet of information from the school, reality set in and I started to feel a bit intimidated. I worried that she might not be able to keep up with the demands of practice and certainly didn't think she could actually compete in a meet," said Kim.
Kim communicated with PVJH and the swim coach to make a plan. Jazzie felt more comfortable when Madi and her aide were with her. Their presence allowed her to relax more and have a good time in the pool. "The first day of practice for Jazzie and Madi was fantastic. There was a half hour time frame that they were given a private lesson," stated Kim.
Caitlin Schoville, PVJH swim coach, assists in making sure that everyone can be successful and have a great time on the team. "In junior high swimming, we work together to develop plans that assist swimmers to advance their skills and abilities. We meet individualized needs to maximize opportunities and place swimmers in events where they will experience success," said Schoville.
A lot of joy developed after Madi and Jazzie made the swim team. "I am so grateful for the time and thoughts that the administrators and coaches have put into this to make it a positive experience for Madi and Jazzie," said Megan.
"We appreciate our administration, coaches and other staff being willing to accommodate our daughters interest in this sport," Kim remarked.
Both Madi and Jazzie are excited for the season ahead. Their passion and determination to let nothing stand in their way of doing what they enjoy, may open up new opportunities for others with disabilities to go out and do something they didn't think they could do.
About the Writer
Lena Ahrens, Social Media Manager
Lena Ahrens, 18, is a senior at Pleasant Valley High School and was born and raised in the Quad Cities. Ahrens enjoys spending time with her friends and...