All in for Iowa: Caucus season and the first step towards a presidential election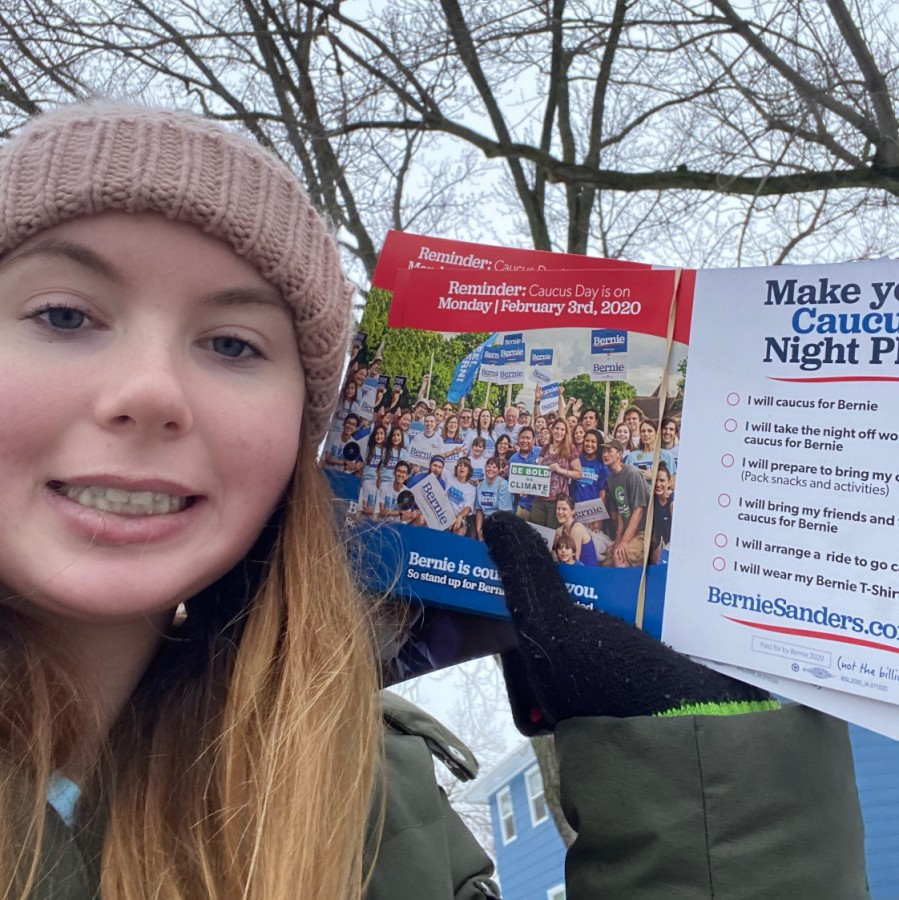 The 2020 Iowa Caucus was the first milestone in the presidential race. After an abundance of new voters and delayed results, students have found their voice in politics. 
As politicians prepared for the big event, the anticipation for a first-time caucus goer was building. The 2020 caucus took place on Feb. 3 at various locations throughout the community. Many left and right-leaning students had the opportunity to formally support their favorite candidates for the first time this election season. 
The process may have been confusing for some students as this was their first time participating. A caucus is often compared to a "neighborhood meeting" as small communities gather together at a certain location. In the past, many gatherings would last hours. The new enforcement this year of only two rounds of alignment made it just over an hour.
In order for a candidate to be eligible, they had to receive at least 15 percent of the crowd's support. New this year to the Iowa caucuses, once someone has determined their vote for a viable candidate in the first round, this declaration is locked in and could no longer be changed. Only those who had previously supported a candidate that is no longer viable may realign themselves with someone new.
Over 200 PV students participated in the Iowa Youth Straw Poll, an online survey given to young voters preceding the Iowa caucus. The results show that Mayor Pete Buttigieg had a small lead over Andrew Yang each with around 23 percent. Coming in third was Bernie Sanders with 19 percent followed by Joe Biden with 13 percent and Elizabeth Warren with 10 percent. The statewide poll, however, showed Yang as the favorite. In the Republican poll, President Donald Trump had the overwhelming majority with over 91 percent. 
Although the democratic candidates were outnumbered by Trump supporters in the PV results, students were still motivated to be an active member of this year's caucus event. Senior Amy Oberhart is a member of the Bernie Sanders campaign and was able to canvas neighborhoods in Bettendorf.
"I think it is so important for teenagers and young adults to exercise their right to vote," she said. "The policies that are being discussed by candidates now will affect students for their young adult and adult life."
Junior Taze Wilson supported Andrew Yang and encouraged the participation of young voices in politics. "Young people need to be educated when it comes time to vote," he said. "Their opinions are invaluable and educated opinions supply a glimpse into America's future."
The official Republican caucus results came in quickly showing Donald Trump as the clear winner with 97 percent support, receiving 38 delegates. The Democratic results were delayed for a few days because of technical difficulties. The addition of an electronic app malfunctioned and prevented the announcement of a winner that usually happens the same night. 
The country reacted with scrutiny towards Iowans and described the event as "A total mess." Iowa Democrats blamed the delay on a coding issue that took place within the app. Iowa Democratic Party chair, Troy Price, announced that the mishap was "unacceptable" but his top priority was the "accuracy and integrity" of the results.
Now, with all of the results accounted for, Buttigieg had a narrow lead over Sanders, both receiving 11 delegates. Behind them, Warren received five delegates.
Amidst the perceived chaos and confusion, the Iowa caucus is a representation of how the rest of the election process will continue. This initial phase of voting is a crucial step in the presidential election that can not go unnoticed.
About the Contributor
Carly Lundry, Editor in Chief
Carly Lundry is currently 18 years old and a senior at Pleasant Valley High School. When she is not dedicating her time to academics, Lundry enjoys swimming...