Tik Tok: Recent rise of users creates new dangerous challenges
Renegade, cannibal and the skull-breaker. It's no secret that any social media site will have dangerous challenges that some teenagers will eventually participate in. But one of these sites has made a name for itself.
Tik Tok has been a growing platform amongst many teenagers. Many young teens are making a name for themselves on the app like Charli D'Amelio, Addison Rae, Tayler Holder and Pleasant Valley's own Paris Fietsam. 
Many dances and challenges are going around, such as the renegade and cannibal, so it's not uncommon to see teenagers attempting these dances whether on the app or in the hallways.
Although some of these dances are harmless, there are more challenges on the app that pose a threat to the people trying to attempt them. Recently there has been an outbreak of the "skull-breaker challenge."
In this challenge, three people stand next to each other and all agree to jump at the same time. As the three begin the challenge, the person in the middle jumps and the two on the ends kick out the feet of the one in the middle, causing them to fall on their head. 
Tik Tok has had an immense amount of influence on the lives of teens–so much so that public officials are getting involved. Doctors and even police officers are coming out and warning parents and teenagers about the risks of this very dangerous challenge.
Paris Fietsam started her Tik Tok account in May, but she didn't start making videos until July 2019. With over 260,000 followers, Fietsam has admitted that using the app has affected her daily life. 
"Almost every day someone makes a comment about it so it affects the way that others view me," Fietsam said. "I also spend a lot more time on social media now trying to maintain my Instagram and Tik Tok accounts, which provides me with a lot of work and opportunities to advance myself."
Although Tik Tok can be beneficial, it also poses a threat to the teens that try to participate in dangerous challenges. "I think some of the dangerous trends are super pointless. Some people will do anything for 'fame'," said Fietsam. "Some can be funny but trends that lead to people harming themselves or others are really dumb and irritating."
Fietsam not only sees the change in her daily activity, but is shocked by the social pressure of having Tik Tok. "It's crazy to me how much it took over society so quickly. I've never seen another app take over everyone's phones so quickly," said Fietsam. "Every single type of person is on Tik Tok regardless of age, location and ethnicity."
Just because Fietsam uses the app on a daily basis doesn't mean that she's the only one seeing the challenges and experiencing the pressures that Tik Tok has on teens.
Junior Sam Gould doesn't get on Tik Tok often, but she isn't deprived of the content that it holds. "A lot of people around me are obsessed with it and do all the dances on it," stated Gould. "I feel like some people would feel like they should be on Tik Tok and make them because of others around them."
Having seen this challenge go too far in Arkansas with a young teenager being severely concussed from this challenge, Pleasant Valley Administration warned parents about the challenges circulating Tik Tok via email about a week ago.
Kristen Wendell, mother of junior Reese Wendell, voiced her thoughts about the precautions parents need to take. "As parents, you have to be involved and talk to your children about choices and being willing to go against the current their peers are following," Wendell stated. "Tik Tok has the authority over their own app and these dangerous challenges should be taken down. They understand how influential their app is and how this generation is eager to be known."
With new dances and challenges coming out on all forms of social media, Tik Tok has been arguably the most influential of all. With the social pressures of being caught up in mainstream media, it's scary to imagine what challenge could be next.
About the Contributor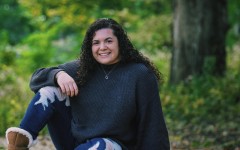 Cecilia Zavala, Overflow Section Editor
Cecilia Zavala is a senior at Pleasant Valley, and a vital part in the Spartan Shield online. In addition to her duties for the Shield, Zavala is a member...