Entrepreneur from home: Students make masks for the greater good
Amidst the pandemic, students are finding unique ways to give back to their community while staying safe. Some students have picked up old hobbies like sewing. 
Sophomore Sidney Brockmann has not sewn in years, but seeing others use their sewing skills to make masks on television inspired her to do the same. "I used to sew several years ago with my grandma, and haven't done it for many years but then, I saw this woman on TV that was sewing masks for people, and I thought that I could attempt to sew a couple for my family at least," she says. Brockmann has made enough masks for her entire family.
Similarly, some students have been working alongside their family members to sew masks. Senior Holyn Doran has been helping her mom make masks for their neighborhood. "I've cut up some of the fabric pieces so she could sew them into the masks and I've put in the middle filter piece to help her out," she says, crediting her mother for most of the hard work.
Although making masks is a productive way to pass time in quarantine, Brockmann and Doran are helping for more than themselves. "I made masks because I wanted to protect not only people in my family but my community from the virus. I didn't want to buy medical grade masks because some people (frontlines, sick, etc.) need them more than I do, and I didn't want to take away from their supply," Brockmann says. 
Sewing masks for a household is a great way to help medical professionals without leaving the house and risking the safety of others. 
Doran's family has gone one step further by donating their masks to their neighborhood. Doran and her mother have made over 40 masks so far. "We've been giving masks to our neighbors because much of our neighborhood is older people who are at higher risk, so my mom makes them and gives them away for free," Doran explains. 
For those that are hesitant about their sewing skills, Brockmann assures that it gets easier the more it is done, especially when following a youtube video. "I will admit, it was a little tricky at first. The first one took me about an hour to make and I had some difficulties," she says. Now, it only takes Brockman 20 to 30 minutes to make a mask. 
She has also been able to make her masks without leaving her house for extra materials. "I cut up some old t-shirts and used that as the fabric and I had a little bit of elastic left over from a skirt I made a couple years ago," Brockmann says. 
Stories like these are inspiring to others in the community that want to help but are hesitant on how to stay safe. Leslie Doran, mother of Holyn Doran, says it "makes me feel like I'm doing good while staying home." Both Doran and Brockmann have found unique ways to give back to their community with minimal outside contact.
About the Writer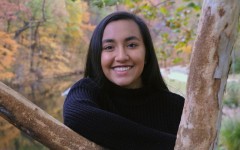 Preksha Kedilaya, News Editor
Preksha Kedilaya is a senior at Pleasant Valley High School and the current News Editor for the Spartan Shield Online. In addition to working for the Shield,...