REVIEW: The Last Dance: The nostalgic Jordan documentary
The ten episode series on former NBA player and legend Michael Jordan has been a hit for sports fans struggling to fill their missing sports entertainment. Behind the scenes footage, game highlights and celebrity interviews are exciting features — especially for Chicago Bulls fans.
Senior Jackson McLaughlin, former PV basketball player, has become an avid watcher of "The Last Dance," already watching it twice through. "I think it's exciting because it shows us a time our generation wasn't going to see, and it shows us how great he [Jordan] really was," he explains. "He's the greatest of all time, and in the series we get to see him in his life more than as a basketball player."
Two timelines are explored chronologically in the series — Jordan's entire career from childhood to present, and his sixth and final title with the Bulls in 1998. For some fans, the plot is fairly clear, but for others the transition between time periods may be confusing. Regardless, the series is extremely informative and eye-opening on Jordan's real experience with basketball.
In the first two episodes, Jordan is shown growing up in his hometown in North Carolina as his parents give background on his early life. Once Jordan is recognized as a talented high school player, the plot switches to the beginning of the 1998 playoffs, which consisted of the "golden age" of the Chicago Bulls, becoming their most successful year in the NBA with a record of 62-20.
Episodes three and four involve the experience of players around Jordan. With team member Scottie Pippen's delayed foot surgery, player Dennis Rodman is forced to fill his spot, becoming Jordan's new wing-man. The Bulls continue to push through the playoffs, fighting through games against very talented teams.
The plot then jumps back to Jordan's childhood when he began to learn from his parents. The philosophy behind Jordan's game is revealed, featuring old Native American lessons and Zen Buddhism teachings implemented by Phil Jackson, Jordan's father. Former Coach Steve Kerr worked alongside Jordan to pass on similar teachings to the team, making them the most disciplined in history.
Episodes five and six truly bring to light the nature of being an NBA All-Star. Jordan and legend Kobe Bryant finally match up in the All-Star game in 1998, instantly becoming friends and mentors. Jordan also starts to get involved in sponsorships, getting offers from countless huge name brand companies, but most importantly, Nike. 
Once he signs with the business, Jordan automatically begins racking up millions, creating his own shoe line that still sells out to this day. The episodes also highlight past playoff series with the Bulls, and then show the next two games which the team dominates at.
In the next few episodes, Jordan copes with the loss of his father in 1993, temporarily pulling out of the NBA. During his break, he dabbled in baseball, entering the White Sox affiliate and playing a season with the Birmingham Barons. However, he understood that his calling was in basketball, and once the grieving was over, he returned to his beloved sport.
The last two episodes of the series go over Jordan's final two seasons in the NBA. Each game shown was a close win and a tough battle. Former teammate Steve Curr speaks about his experience entering into the basketball world as he used it as a way to cope with the tragic loss of his father. Curr fought alongside Jordan to win several finals. The series ends with an electrifying reflection of the six championships won.
McLaughlin examines the impact "The Last Dance" will have on the sports world. "I think it's going to lead to more documentaries on sports icons because of how well this [the series] has done. More players will ask camera crews to follow them around for their last seasons — for example, LeBron potentially soon," he says.
Throughout his career, Jordan has taught basketball fans as well as society to underestimate no one. At his start in the NBA, he was seen as a "rookie," but quickly earned the title of "His Airness" because of his unmatched talent. "The Last Dance" is an excellent tribute to the star's career, and is recommended for all people, not just basketball fans.
About the Writer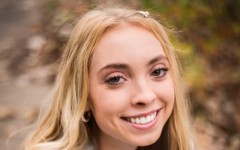 Brooke Goy, Copy Editor
Brooke Goy is a senior at Pleasant Valley high school. Goy is originally from the suburbs of Chicago but somehow ended up in small town Iowa with plans...