Songs to Listen to When You Need a Serotonin Boost
With school back in session, our stress levels are higher than they have been in months. Sometimes some positive vibes are all we need to calm ourselves, and this serotonin boosting playlist should do just the trick!
      1. "Stereo Hearts" – Gym Class Heroes (feat. Adam Levine)
This song is the perfect pick me up song to start your listening experience!
      2. "Super Bass" – Nicki Minaj
The perfect song to sing in the car driving around or to secretly dance to when no one is looking!
      3."Fergalicious" – Fergie, will.i.am
Just the lip-sync challenge you need to get yourself back in the grove of things.
      4. "Hey, Soul Sister" – Train
Belting out this song is sure to make you smile no matter what.
      5. "Dynamite" – Taio Cruz
Easily one of the songs that defined our childhood, it is hard not to jam out to it!
      6. "Whatcha Say" – Jason Derulo
Who does not love Jason Derulo? "Whatcha Say" is the definitely going to bring back those 2009 vibes.
      7. "Worldwide" – Big Time Rush
This song brings back some nostalgia of our younger years and will surely make you wish you were eleven years old again!
      8. "On the Floor" – Jennifer Lopez, Pitbull
Who would not want to get up and dance to JLo? "On the Floor" is the perfect song to boost your mood and bring a 'pep to your step'.
      9. "Fireball" – Pitbull
Nothing gets you more pumped up than listening to Mr. Worldwide!
      10. "Umbrella" – Rhianna
What better way to bring in the happy vibes than to listening to the queen of the 2000s?
      11. "Best Day of My Life" – American Authors
Listening to this song is guaranteed to make your day better-so much better it just might be the best day of your life!
      12."Rocketeer"  – Far East Movement, Ryan Tedder
If you want to get away, but are stuck where you are, just listen to 'Rocketeer.' Listening to lyrics about flying away feels almost as good as the real thing.
      13. "Magic" – One Direction
This song's catchy lyrics and upbeat sound will lift you right out of any funk and bring you only positive vibes!
      14. "Teenage Dream" – Katy Perry
If you do not feel like you are living the teenage dream quite yet, listening to this song will definitely help.
      15. "I Gotta Feeling" – Black Eyed Peas
~I gotta feeling~ that the Black Eyed Peas will send positive vibes your way while listening to this song!
      16. "Sky Full of Stars" – Coldplay
Who needs a hypeman when you have Coldplay? 'Sky Full of Stars' is the confidence booster you need when you are feeling a little down in the dumps!
About the Contributor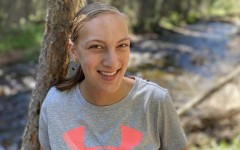 Elizabeth Pischke, Copy Editor
Elizabeth Pischke is an involved senior at Pleasant Valley High school, and serves as a copy editor for the Spartan Shield.  At school, Pischke is a member...