A fight from behind the bench: Ruth Bader Ginsburg's notorious legacy on the Supreme Court
Supreme Court Justice Ruth Bader Ginsburg, affectionately known as RBG, passed away Sept. 18 following a years long battle with metastatic pancreatic cancer.
Ginsburg had suffered from a series of health complications over the past 2 years, prompting many to encourage her to retire. However, Ginsburg had been putting off retirement until after the Nov. 3 election, in hopes a new president would be elected. 
Appointed to the court in 1993 by President Bill Clinton, Ginsburg was the second woman to serve on the Court. Ginsburg boasted an impressive professional background, having graduated top of her class from Columbia Law School after transferring from Harvard Law-in order to remain close to her husband, Martin. 
After graduation, Ginsburg began her career as a law professor at Rutgers University, where her students sparked her interest in gender discrimination in the law after introducing her to instances of discrimination consistant among several court precedents and cases. 
In 1972, Ginsburg founded the ACLU Women's Rights Project and fought alongside her staff to achieve pivotal victories for women's rights. A pioneer in the fight against gender discrimination in law, Ginsburg won several cases throughout the 1970s which redefined women's rights – such as the right to have a mortgage or hold a credit card. 
However, Ginsburg's passion for equal rights did not end after her appointment, as she continued to advocate for her beliefs from the bench.
Iowa Supreme Court Justice Tom Waterman recognized the contributions Ginsburg made in promoting equal rights for women to the Court: "Her opinions struck down barriers to women in education and employment," noted Justice Waterman. "At that time, women were woefully underrepresented in the judiciary and legal profession. Her actions and example inspired countless women to succeed and leveled the playing field for women in law and all walks of life."
During her time on the Court, Ginsburg continued her stance on equal rights, arguing in favor of and dissenting several notable cases. In 2007, Ginsburg dissented with five of her colleagues over Ledbetter v. Goodyear Tire & Rubber Co. from the bench-an exceptionally rare move. 
The case, regarding gender discrimination in salaries, sided with Goodyear Tire & Rubber Co. based upon the 180 day statue of limitations in which a claim must be filed, unlike Ledbetter's. Ginsburg notably disagreed, arguing the 180 day limitation was too short of a time to identify any discrepancies as they often occur gradually. 
Ginsburg's dissenting opinion and call to action to Congress led President Barack Obama to enact an amendment to the 1964 Civil Rights Act known as the Lilly Ledbetter Fair Pay Act. The act, which reset the statute of limitations of equal-pay lawsuits to each paycheck, took effect in 2009. 
Ginsburg's commitment to equal rights continued through the end years of her career. In 2015, she argued in favor of granting same-sex couples the right to marriage in all 50 states in Obergefell v. Hodges. Throughout the oral arguments of the case, Ginsburg publicly called out her colleagues who opposed same-sex marriage-which is believed to be a major factor contributing to the victory. 
The Court ruled in a 5-4 majority in favor of Hodges, claiming same-sex marriage bans were a violation of the 14th Amendment's Equal Protection Clause. The outcome of this case legalized same-sex marriage throughout the nation. 
Following Ginsburg's death is the appointment of a new justice. Traditionally this appointment is made by the presiding president, however, there is significant controversy surrounding who will get the opportunity to replace Ginsburg.
The controversy stems from the 2016 appointment to replace Justice Antonin Scalia, which fell at the end of Obama's second term. Since the presidential race was already underway, Republicans asked to withhold an appointment until after the 2016 elections, declaring whoever won responsible for the appointment. Senator Lindsay Graham fought to wait, telling Democrats to use his own words against him if a similar situation presented itself in 2020. 
Now with parallel circumstances having occurred in 2020, Republicans are rushing to fill the seat before the election, leading Democrats to fight back. Speaker of the House Nancy Pelosi, a Democrat, has threatened several potential ways to delay the president's appointment of a justice, such as reigniting impeachment efforts against President Trump. 
Nearly a week after Ginsburg's death, President Trump nominated Amy Coney Barrett, a staunch conservative, to fill Ginsburg's seat. If her appointment is approved, Barrett could dramatically alter the ideological makeup of the Court. 
Beginning this week, The White House will start meeting with senators. They hope the Judiciary Committee can hold hearings the week of Oct. 10, with nomination being approved by Oct. 22 and a Senate vote taking place by Oct. 26. 
Both parties are still fighting for the opportunity to appoint the next justice, as whoever is appointed has the power to substantially shift the Court's ideological makeup. Senior Christina Li, who has been actively following the process, said: "The appointment of the newest justice is crucial for so many people. Depending on who appoints them, it can shift the stance of the court and drastically change the lives of many Americans."
Ginsburg's dissents and decisions have shaped modern society as she fought to achieve equality for all. Regardless of which political party is given the opportunity to appoint the next justice, Ginsburg's legacy will continue to live on in the Court's, as Justice Waterman observed: "Her body of work remains in the law books and will stand the test of time. Her life will continue to inspire future generations on."
About the Contributor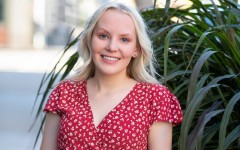 Ingrid Hofmann, Editor-in-Chief
Ingrid Hofmann is a senior at Pleasant Valley High School and serving as the Spartan Shield's Editor-in-Chief this year. She is a involved student, participating...