Dumas announces his commitment to play golf at Drake University
Jack Dumas has been the face of Pleasant Valley Men's Golf since he entered the program as a freshman in 2017. After four seasons of dominant scores on the course, the school record holding golfer recently announced his commitment to play at Drake University.
The senior has been a member of the varsity team since his freshman year and has been a force to be reckoned with ever since. Earlier this season, Dumas posted a 
school record 65 at Palmer Hills. He now plans to take his talents to the next level at Drake University in Des Moines next year.
He was offered the biggest scholarship in Drake Men's Golf history. His stellar play also gained interest from schools such as South Dakota, Illinois Wesleyan and Nebraska. 
Dumas found Drake to be the best fit for him as a student and a golfer. "I wanted to stay in the Midwest, and I took a visit there in January and really liked the school," stated Dumas.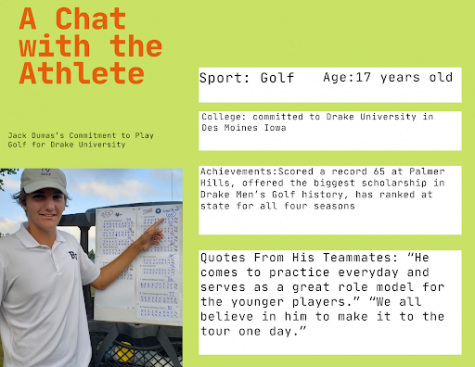 The most notable alumni from Drake is PGA professional Zach Johnson. Johnson's many career accomplishments include wins at both the Masters and the British Open. Dumas hopes to follow in the footsteps of Johnson and become the next great golfer to come out of Drake. "Knowing that someone like that has come through the program before and has succeeded like that is pretty cool," he said.
Johnson recently donated a large amount of money to the program which helped fund simulators, practice greens and putting equipment, which will prove beneficial to  Dumas as he takes his game to the next level and looks to fulfill his dream of going pro.
The Pleasant Valley golf team is very proud and excited for what lies ahead for Dumas. "All of the guys are happy for Jack and we all believe in him to make it to the tour one day," stated Junior Max VanDerSchaaf.
Teammates of Dumas recognize his hard work and dedication on the course. "He comes to practice every day and serves as a great role model for the younger players," said VanDerSchaaf. "He's always working to get better and the team follows suit."
Dumas will continue his momentous play as the Spartans compete for a state in October. After this season is over, however, he will have a whole new world of opportunity waiting for him in Des Moines.
About the Writer
Michael VanDerSchaaf, Sports Editor
Michael VanDerSchaaf is currently a senior at Pleasant Valley High School where he is a big part of Spartan pride. Michael is a big fan of sports, being...