Independent freshman homecoming frustrates staff, students
A large group of freshman students held their own private homecoming on Oct. 3 after Pleasant Valley High School postponed the school's annual dance.
Photos from the evening, which their social media posts named "Un Hoco 2020," shows the group of students formally dressed and unmasked.
In one photo, 19 freshmen are seated at a large dinner table, elbow to elbow.  In another, students are mingling in a family room while one couple exchanges corsages and a mother tends to the group. None of the posted photos show anyone masked.
The Center for Disease Control and Prevention (CDC) and the state of Iowa's most recent COVID-19 regulations both dictate a limit of indoor activities, social distancing of six feet apart and wearing a mask. 
Several parents whose children attended the dance and parents involved with the planning process declined to comment on the evening's activities and why photos show that no precautions were taken to ensure the event followed regulations put in place by government health officials. According to the caption in one of the photos, the evening included photos, dinner and a movie. 
While the school was unaware this event took place, it is also unable to enforce specific regulations as to how students gather outside of school. Pam Cinadr, PVHS nurse, highly discourages these types of activities and found the hosting of a homecoming irresponsible. "Absolutely, there should be no large gatherings," Cinadr expressed. "There was no reason at all to have a freshman homecoming."
Cinadr has seen the effects of students hanging out, in both large and small groups, leading to quarantines after one member of the group tests positive. Although she has no control over how students behave outside of the building, she strongly encourages wearing masks when around other people. 
Many students and teachers have voiced their frustration since news of the event surfaced, saying they do not understand the group's need to hold a homecoming event when the school's dance was only postponed until April, not cancelled. "Freshmen have three more years to have homecoming. Having a large gathering so they could experience homecoming is unnecessary," remarked Cinadr. 
Cinadr was not alone in her frustrations. Senior Ceely Patramanis, who has attended all but one high school dance, believed it would have been safer for the students to wait, especially with the recent spike in COVID-19 cases in Scott County. 
Patramanis said the event was disrespectful towards upperclassmen, specifically seniors, who may potentially lose out on future notable events such as prom or graduation. "They should have just waited. The dances are fun, but not worth risking the health and ability to continue this school year in person," she conveyed. "It is so crucial that we remain patient during this time in order to stop the spread and get life back to normal as soon as possible."
In response to this event and the recent spike in cases, both Cinadr and Patramanis reiterated the idea and necessity of working together as a community in order to slow down the increase in cases. "Everyone at this school is undergoing the same frustration, and it will not go away until we all take responsibility," voiced Patramanis. Both women vehemently believe now is the time to wear masks, socially distance and avoid large group gatherings if there is hope of returning to in-person school next semester. 
While this was not the only independent homecoming to take place this fall, the circulation of photos from this event left many students and teachers exceptionally displeased. 
About the Contributor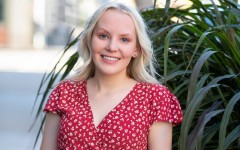 Ingrid Hofmann, Editor-in-Chief
Ingrid Hofmann is a senior at Pleasant Valley High School and serving as the Spartan Shield's Editor-in-Chief this year. She is a involved student, participating...