Together as one: Why every school needs a Sparkle Effect team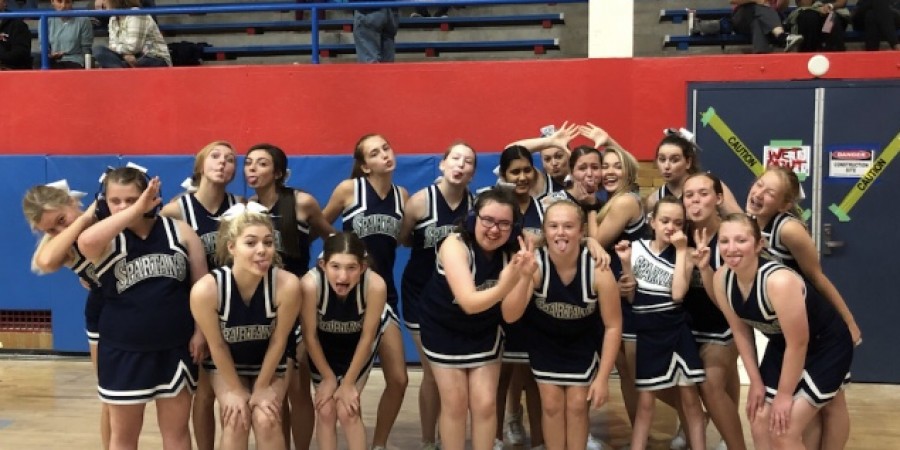 On the sideline and during half-times of football and basketball games, spectators have the opportunity to watch the PV Sparkles and Stars shine through their performances.
The Sparkles and Shining Stars teams are all-inclusive teams that involve students with and without disabilities at PV and beyond.
These teams are part of a nationwide program called the "Sparkle Effect." The "Sparkle Effect" originated at PV in 2009 by former student Sarah Cronk. PV was the first school nationally recognized for incorporating an inclusive cheer team.
Having all-inclusive teams has proved to be incredibly beneficial to all involved. Sparkles parent, Megan Ramirez agrees and has seen the benefits of the team on a personal level.
Ramirez has had two of her daughters go through the program, one with a disability and one without. "Sparkles has created an environment where both of my girls were able to do what they love together," Ramirez expressed. "Without this opportunity of inclusiveness they never would have been able to make those memories and share their love of the sport."
Abigail Ziolkowski, a Sparkles cheerleader, was born with midline defects that affect her heart, back and mouth, as well experiencing ADHD and anxiety.
The Sparkles team has given her a unique opportunity to be on a cheerleading team. "I get to learn how to cheer and stunt and it is important because you see old friends and new ones and it is for kids with special needs," Ziolkowski said.
Participating on these inclusive teams has a lasting and positive influence on the cheerleaders. One example is former PV student and captain of Sparkles Haley Humes, who started cheering on the Sparkles team when she was a sophomore. "Sparkles significantly impacted my life during high school and continues to motivate me," Humes explained.
Humes went into further description of what she learned from being a member of the team. "I learned that individuals with disabilities have incredible strengths," Humes continued. Her participation on Sparkles inspired her to go into a medical career where she has the power to impact the health and lives of individuals with disabilities.
One way that Sparkles promotes learning and bonding is through their partner system. At practice, everyone has partners, and the pairings don't typically change more than twice a year. I love the partner system because you're able to get to know another participant on a personal level. An hour together every week allows you grow together and build your partnership.
I have been on the Sparkles cheerleading team for two years, and words cannot even begin to describe how this team has changed my life. I have learned how to work with and communicate with different types of people, and I have met people whom I will remain friends with for the rest of my life.
I have also learned how everyone can benefit when our different abilities come together to create amazing things. Sparkles has taught me to advocate for the people that I care so much about, including educating others on proper language when referring to someone with a disability.
By having inclusive teams like Sparkles or Stars, everyone-despite their differences-can join in at a safe place to have fun and work hard without judgment.
Prior experience with cheerleading or dancing is not necessary to join a "Sparkle Effect" team. Even though the "Sparkle Effect" is meant for cheerleading and dance teams, it doesn't have to end there. Other inclusive sports teams or clubs can be made too. It is time for students to create more places where everyone is able to learn and thrive.
Students interested in joining an existing "Sparkle Effect" team or creating a new team/club should contact their school to inquire about the process involved.
Society needs more people advocating for the respect of people that have disabilities, and having inclusive teams is an effective way to create societal change. Showing society how people with and without disabilities can create amazing bonds is a step in the right direction. Every school should give their student body the opportunity to change their lives and participate in one of these teams.
About the Contributor
Addi Steele, Photo Manager
Addi Steele is a senior who serves as a photo manager for the Spartan Shield. Addi is a very committed athlete and is very involved in multiple school...