REVIEW: A love letter to Paris: "Emily in Paris"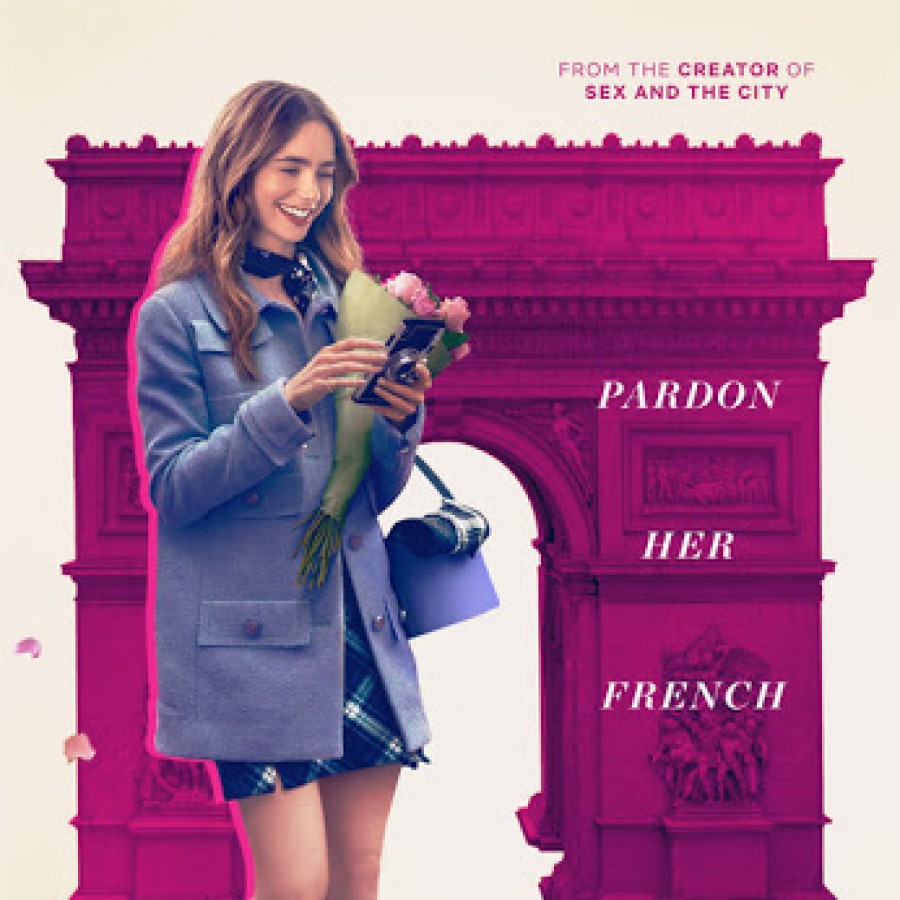 From Darren Starr, director the "Sex and the City" films and "90210" series, comes the latest addition to Netflix's long list of mini-series: "Emily in Paris," which released on Oct 2. With a rosy and romanticized lens, the show focuses on the main character's transition from Chicago to Paris. 
The 10 episode production follows Emily Cooper (Lily Collins; "The Blind Side," "Love Rosie"), up-and-coming social media marketing mogul, as she expeditiously leaves behind the Windy City for the City of Love. The storyline mainly centers around a social media account account she creates to document her journey, aptly named "@emilyinparis."
Emily, with intrinsic Midwestern people-pleasing values, aims to please as she begins working at Savoir, a luxury French marketing firm, only to be turned away in opposition from her French co-workers, who affectionately deem her "la plouc." Despite Emily's vulnerable position, she eventually starts to win over colleagues and clientele with her charming "Midwest nice" attitude. 
With eventual companionship and encouragement from colleagues Luc (Bruno Gouery) and Julien (Samuel Arnold), and client Antione (William Abadie), Emily is able to take her boss and antagonist, Sylvie (Philippine Leroy-Beaulieu), to prove herself worthy of working at Savoir. Outside of work, Emily relies on friends Mindy (Ashley Park) and Camille (Camille Razat), as well as the guy next door (or in this case, the guy one floor below), Gabriel (Lucas Bravo), for guidance and support. 
However, Emily, arrogantly American in the sense that she does not speak any French nor has any knowledge of the customs, struggles to navigate the unspoken rules of French culture, allowing the show to often stereotype and overplay French clichés, despite the thriving diversity that exists within the city. This failure to recognize and appreciate French culture, has left the show receiving a fair amount of backlash from French viewers. 
Despite Emily's blatant disregard for learning the native language, the show still dove deep to tackle more taboo topics such as sexism and expressive sexuality. With America often criticized for its conservative perspective of sexuality, it was refreshing to see Emily explore the bounds of her romantic life free from societal judgement and constraints of America.  
The show, littered with sexual innuendos and references, takes a more progressive, honest approach towards Emily's romantic pursuits and her identity as a sexual being. However, regardless of her attempts to maintain professional relationships, Emily often mixes business with pleasure–entangling her in convoluted, intricate love triangles which complicate the plot in a melodramatic, yet familiar, manner. 
Although the plot and portrayal of Paris can be questioned, the visual aesthetics and fashion of the cast remain unparalleled. In true Darren Starr style, the show consists of beautiful people in a beautiful place wearing beautiful clothing. 
From the minds of Parisian production designer Anne Seibel ("Midnight in Paris") and set decorator Christelle Maisonneuve, Emily is thrust into the lavish and extravagant aesthetic of Paris. The designers coupled renowned Parisian landmarks–the Eiffel Tower, The Seine River and Palais Garnier–with chic offices, quaint cafes and tasteful bistros to encapsulate a rosy and romanticized version of Paris-an enthralling sight for viewers at home.
The vibrancy and opulence of the set spills over into the cast's wardrobe. Fashion mastermind Patricia Fields, who was also responsible for the highly-esteemed outfits of "The Devil Wears Prada" and "Sex and the City," provides Emily, and other characters, with experimental, yet memorable, outfits. 
While Emily's style, heavily influenced by American trends, initially starkly contrasts her Parisian counterparts. But, as both her character and the plot grow, Emily's style develops into a more refined Parisian-chic over the kindergartener getting dressed in the dark vibe it originally gave off. 
With production's intentions being a love letter to Paris from a tide-and-true Midwesterner as she navigates the complexities of Parisian society, the naive perspective of French culture and overdeveloped stereotypes promoted a starry-eyed message rather than genuine admiration for the city. Although the show may not be a 100 percent accurate representation of the city, its idealist and picturesque portrayal, has piqued interest among Americans. 
Nonetheless, with a smattering of influence from its romantic drama predecessors, such as "Gossip Girl" and "Sex and the City," "Emily in Paris" provides a chic, light-hearted–albeit cringey and arrogant at times–watch of a European love affair from the perspective of a young American. 
About the Contributor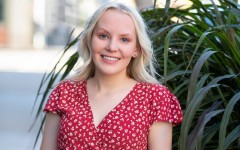 Ingrid Hofmann, Editor-in-Chief
Ingrid Hofmann is a senior at Pleasant Valley High School and serving as the Spartan Shield's Editor-in-Chief this year. She is a involved student, participating...