Minor League Baseball
As more and more citizens are getting used to new life with the pandemic, questions have started to arise about how events and activities, such as minor league baseball, will adapt to the ongoing pandemic.  
Many baseball fans, especially those in the Quad Cities, are looking forward to the 2021 season, but there were several decisions made that impacted the process of the 2020 minor league baseball season. Especially since the Major League Baseball (MLB) season took place in the summer of 2020. 
The MLB released a statement informing the public that they would not be sending any of their players to their respective minor league teams — which effectively ended the 2020 minor league season.
Minor league baseball responded by acknowledging the risks and stating that they want to keep everyone safe, but they were disappointed in the MLB's decision. 
In response to this decision, the Quad Cities River Bandits reached out to fans to ensure that tickets and other season purchases, like suite leases and sponsorships, would all be transferred to the 2021 season. 
Since COVID-19 completely shut down the 2020 season, concerns have been raised about the status of Iowa minor league baseball teams. Unlike the MLB, minor league teams can not afford to play games without fans. A majority of their revenue comes from concessions, attendance and sponsorships. 
Many minor league times are uncertain about their future affiliations with MLB teams. Those affiliations give minor league players recognition and pave them a path to the MLB.. 
The prospect of some of these players going pro is why many fans attend minor league games like former Pleasant Valley student Jack Leslie. "Personally, I go to get autographs from top prospects who are trying to make it big in the major league, so losing one of the 4 Iowa Midwest League teams would hurt a lot," commented Leslie. 
The loss Leslie referred to is the speculation that COVID-19 may cause the demise of the Burlington Bees. Their financial issues and attendance problems have raised several questions about their position in the Midwest league. However, many people view these organizations as more than just a baseball team. "These teams are important to their communities and help bring them together," commented Leslie. 
While the River Bandits have made the adjustments to move forward with the 2021 season,  they also have to take into account the cost of necessary safety to be put in place due to COVID-19. 
Senior Bryce Farmer understands the measures that must be taken, and does not doubt it will impede the atmosphere of Modern Woodmen Stadium.. "It is important for the organization to prioritize safety, but once they open I have no doubt that people will be eager to get back and enjoy all fun experiences that the game and stadium provides," commented Farmer. 
COVID-19 impacted minor league teams while they were already struggling and it could be the deal breaker for many of them.  The MLB has a financial advantage over minor league baseball, but the midwest leagues are a big part of their communities. If minor league teams can retain their affiliations with MLB teams in 2021, then they could be looking at financial security for the next few years.
About the Contributor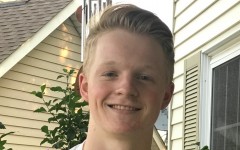 Sam McGrath, Business Manager
Sam McGrath is currently a high school senior at Pleasant Valley High School and plans to major in business at Iowa State University. In his free time,...