Sports stadiums reopen with lack of safety
As the  seasons for many sports progress, stadiums have begun reducing restrictions. This has led many spectators to question whether it is safe to attend games.
Professional leagues such as the NBA and the NFL have already confirmed that their games will be played with limited fan capacity. As a result, exposure to COVID-19 can be reduced, and fans are still able to watch the season. Nevertheless, athletics in high school and colleges around the country have had a different view on how they conduct games.
There are numerous schools that have already opened their stadiums or are allowing limited capacity. However, the schools which have not mandated masks or social distancing guidelines are experiencing a surge in cases. 
When the Notre Dame football team played the top Clemson Tigers on Nov 7, many spectators were afraid that a win in such an intense matchup would lead to fans storming the field at the end of the game. In addition, maximum capacity was allowed, making following safety guidelines difficult.  As feared by many, the Irishmen's victory over the Tigers led to most of the 11,000 fans rushing the field without masks.
Notre Dame aficionado John McGrath believes that, while the victory was a historic one, it was irresponsible of the fans to do that. "While the administration tried their best to prevent this incident, it is equally imprinted for fans to be held accountable. Rushing out onto the field without masks actually made things worse because how we may have to delay the season," affirmed McGrath.
College football stadiums are not the only ones to ease restrictions. For the 2020 football season, PVHS has allowed attendance with a mask mandate but have let students rush onto fields after games. Senior Allison Suen commented, "When we're at a band for football games, I look up and I see the student section not even trying to social distance and they're all just squished into a small area together." Furthermore the Rally in the Valley at the end of the game allowed students to touch players, significantly increasing risk of contracting the disease.
With infection and mortality rates rising to unprecedented levels, many individuals are concerned to see stadiums easing restrictions on attendance.
About the Contributors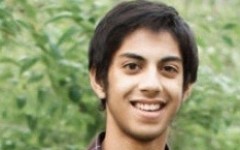 Ani Pradeep, News Editor
Ani Pradeep is currently a Senior in high school and plans to study medicine at an undecided college. While being very invested in his studies, Ani also...
Jonathan Glaum, Multimedia Manager
Senior Jonathan Glaum, the Spartan Shield's online multimedia manager is dedicated to two worlds. Music and technology. He has devoted 6 years to trombone...