Desperate times: Hospitals faced with staff shortage during second wave of COVID-19
The second wave of COVID-19 cases are overflowing U.S. hospitals creating a surge in demand for nurses and doctors.
Hospitals are undergoing massive attempts to increase the workforce in the medical field such as offering expanded salaries to unlicensed new graduates and retired doctors. For ICU nurses, salaries have increased between $5 thousand to $6 thousand a week.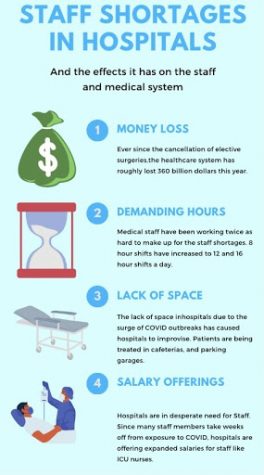 Consequently, the cancellation of elective surgeries is plummeting healthcare's financial aid. Reports expect hospitals to lose roughly $323 billion dollars nationwide this year.
As cases reach record-breaking peaks everyday, the demands to make ends meet become exhausting to physicians like Mark Lenning, an anesthesiologist at Mercy Hospital in Clinton, Iowa. "Half of the personnel at the hospital have been affected by COVID being forced to take time off," he said. "People remaining are being forced to take extra shifts for two weeks."
The lack of physicians has affected the leftover staff. "Instead of a person doing 8 hour shifts they're doing 12 and 16 hour shifts because there's not enough people to maintain the hospital," Lenning said.
Preparations for the second COVID-19 wave did little to help the current staffing shortages. Months of storing medical utensils is useless with not enough doctors and nurses to sufficiently equip them.
With hospitals running out of space for ill patients, healthcare systems are transporting patients across the country for treatment. In some instances, hospitals are treating occupants in parking garages and cafeterias.
Hari Babu, an anesthesiologist at UnityPoint Health Trinity in Bettendorf Iowa, worries for the future of the healthcare system itself. "These hospitals are on a shoestring budget because they shut down elective surgeries and they don't have enough money to pay staffing," he noted.
In addition to combating staff shortage, The University of Iowa is urging recent graduates to set foot into clinics. Furthermore, newly unlicensed nurses that have reached the qualifications for the medical field are being given temporary emergency licenses in Iowa.
One of Iowa's programs grants arrangements for pre-medical students to work as trainees at the clinics. Under supervision from a nurse, the students can treat patients that don't have COVID. This program allows healthcare workers like intensive care or ICU nurses to solely focus on COVID-19 patients.
The never ending cycle of waking up at 8 a.m. and going home at 9 p.m. and seeing countless lives taken away from a virus is the harsh reality that the medical staff endure daily. For the sake of the future, doctors and nurses only hope that the vaccination will insure the institution's safety.
About the Contributor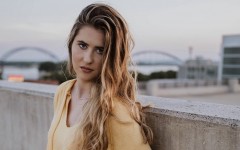 Amelia Prescher, Infographic Manager
Amelia Prescher is a Pleasant Valley High School senior with aspirations to pursue a career in the medical field and attending an out-of-state university....