Pursuing art beyond high school: Students take charge of their artistic future
Each individual brings new ideas and differing perspectives to the classroom. With these contrasting interests, PV is rich in diversity of the mind. 
It can be easy to assume a student's academic career plan: graduating high school, going to a four year university, etc. However, not every student has that exact plan in mind. Many students who are involved in the arts have additional priorities as well. 
Though many artistically talented students give much of their time towards creating art, they are also focused on other areas of study. 
Senior Emerson Peters plans to attend the University of Iowa this fall, pursuing her passion for physics. Though she is excited to major in physics, Peters is equally as eager to continue creating art, as art has always been a huge part of her life. "My mom and grandma were both art teachers and taught me to express my imagination and feelings through multiple mediums of art," she explained.
"I hope to continue making art in college to not only soothe myself but to help showcase physical scientific ideas."
Peters creates and posts her artwork on her art instagram (@emmasartdumpster). Art has been a major part of Peters' life ever since she was young, and her passion for it has only gotten stronger as she finds new ways to incorporate it into her everyday life. 
Senior Uma Kasichainula also creates art daily and plans to keep it in her life after high school. "I love being able to use art as a hobby and as an outlet to express myself. I do have an art account that I seldom use, but it's nice to look back on the work I've done," she commented. 
"I haven't quite decided where art's going to fit into my future plans, but all of my artistic hobbies, be it music, theatre, or painting, are not going away anytime soon," Kasichainula continued. Despite not having a set plan for her interest in the arts, she is sure that it will continue to play a crucial role in her life going forward. 
Another senior, Rohan Abernathy-Wee, is also looking forward to seeing how art will find space in his future. "The summer after high school I plan to spend on my grandpa's ranch in South Dakota. After that I am going to take a gap year where I will use my saved money to rent an apartment in California, learn to play guitar, skate, read and work. Hopefully then I can live out the next spring in La Rochelle, France, and finally become fluent in French," he described.
Abernathy-Wee hopes to attend the University of Southern California to major in English and music. Currently, he has been getting into new types of music, photography and fashion as a way to express his appreciation for art. He uses instagram (@_rohanabernathywee_) to publish and share his work with the world.
"I plan to continue using art to cope with the world and put it in new perspectives. I don't know if art will be a direct part of my future career, but I hope I will continue sharing and being inspired by it," he said.
Senior Lola Johannsen is another student eager to pursue art during this new chapter of her life. "I just got my acceptance letter from the School of the Art Institute of Chicago, and I also received the Creative Honors Merit scholarship worth $71,400 split over four years. Right now my mom and I are going through finances to see if I can go. I will either study interior architecture or art education," Johannsen explained. 
Johannsen posts her work on instagram as well (@lola_johannsen_arts). She sells some pieces, works on prints and takes commissions on her page. After high school, art is going to be Johannsen's reality everyday.
"Like I said, I do plan to go into the art field. While this is a sore subject at PV, a school that pushes STEM, I am still confident in my future regardless of the stigma around going to art school. I hope that I can show our school that, with the right support, art students can succeed just as much as STEM students," Johannsen continued.
While not every student has the same plan for how they will continue their passion for art, many agree that it will certainly continue to fuel the desire for expression in their daily lives. 
About the Contributor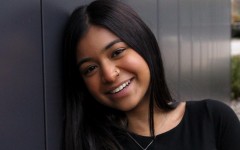 Muskan Basnet, Copy Editor
Senior Muskan Basnet is a Copy Editor for The Spartan Shield this semester. Outside of the The Shield, Muskan spends her time working at Dunn Brothers...