No more mandate: Kim Reynolds repealing Iowa mask mandate meets backlash and support
Governor Kim Reynolds repealed the mask mandate, set in place in November, on Feb. 5. Her decision has received both backlash and support from citizens and mayors. 
The repeal of the mandate went into effect on Feb. 7, just after the new federal mask order was put in place by President Biden on Jan. 21. Iowa has seen a decline in cases since November, but the average new daily cases still totals to around 700. 
Iowa is ranked eighth for total cases throughout the entire pandemic and ranked 34th for the week of Feb. 8. Although the case counts are down, Iowa's death counts are on the rise: deaths have increased by 88 percent since the week of Jan. 25. Despite these numbers, Iowa's COVID restrictions are still being lifted. 
The mayors of Des Moines, Iowa City and Cedar Rapids have all criticized Reynolds' decision and extended the mandate in their cities. Not only have mayors ignored these lifted restrictions, but local business owners have as well.
A local hairstylist at The Cut Above, Amy Hickman, is one of the workers who is still making masks mandatory for entrance. "We have a lot of high-risk customers that come into our business, so we are continuing to require masks," she stated. The Cut Above began enforcing masks in November following Reynolds' mandate. 
Another local business owner, Brenda Thornton, who owns Sweetheart Bakery and Homer's Deli, also plans to continue to enforce the mandate."Several months ago, we put a sign on our front door that said 'Mask please!' in bold letters. After many months, the majority of people wore masks, but it was hard to enforce," she explained. Thornton continued by stating that they would continue to require masks for employees and customers in the upcoming months.
While many businesses have continued to enforce mask-wearing, other stores, such as HyVee, only highly recommend, but not require, the use of masks within the store. Senior Kaitlyn Drish, a Bettendorf HyVee employee, believes that the store will see many people return to not wearing them. "All the employees wear them while at work, but customers weren't required to wear masks, so I think with the repeal of the mandate, it will return to the way it was previously." 
This leaves concern for a greater spread of COVID-19. "I already had COVID-19 in December, so I am not concerned about my own health, but I am concerned for others who are more susceptible to the virus," Drish explained. 
Although many business owners are in support of enforcing masks, many agree that it should be up to the owner's discretion. "Businesses should be able to be open with or without a mask requirement. Whatever it takes to keep places open is what should happen," Hickman stated.
Thornton agrees on this topic. "I was surprised that she repealed the mandate this quickly, but I believe it is our own responsibility to take care of our employees and customers," Thornton concurred. 
Even without the state-wide mandate in place, masks will not be going away in parts of the state. Communities have come together to keep the mask requirements in place as the removal of COVID-19 restrictions are being made. 
About the Contributor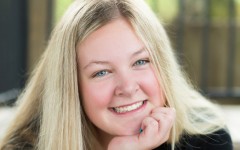 Kendall Jarvis, News Editor
Kendall Jarvis, senior, is the News Editor for the Spartan Shield. She is involved in dance after school and is a member of the National Honor Society....