College decisions: Rejection becomes redirection
Anna Thorne, Arts and Entertainment Editor
February 23, 2021
Many college decisions have been coming out recently, lending a hand in the imminent disappointment of some students who may get rejected from their dream schools. 
Teenagers spend a lot of their high school years, and likely before, wondering about what their future may hold and where they will end up after high school. Whether it be a trade school, four year university, technical school or community college, each student usually has their mind set on some sort of pathway. 
In today's society, it is more acceptable to not follow the four year university pathway as generations before have been expected to do, but it is still the majority choice. 
Regardless of the source it comes from, many students experience a heavy fear of rejection when applying. It is still ingrained into societal standards to follow the set pathway of further education after high school at a four year university. 
This expectation has caused countless students to feel an intense sense of failure if this pathway is not followed, and these standards have created insecurity in those who do not follow suit. A prominent sense of this educational rejection is experienced by those placing extreme value into their acceptance into college.
Senior Emerson Peters experienced these similar feelings of uncertainty and disappointment when receiving her deferment from the University of Chicago. "Because I was deferred, I felt the negatives and positives of both alternatives: I was happy that I didn't get rejected from such a competitive school, but I was sad that I didn't get accepted and that my materials and stats seemed to be not enough," she explained.
While describing her initial feelings when opening the decision letter, Peters touched on the emotional aspect of it all. "At first, I was really kind of disappointed in myself, and started beating myself up about not being good enough," she shared.
The wheel of emotions Peters felt is not uncommon among students when receiving letters from colleges that are so seemingly the deciding factors of their futures. Peters explained that she eventually realized a college acceptance does not define her worth and touched on how her mindset changed once she discovered that she could be in charge of her perception of this college decision, and furthermore her perspective on the pathway it would set for her.
"My thought process was kind of like wiping off the humidity on a wet window: I had been so blinded by acceptance rates and pamphlets in the mail that I had forgotten about my own academic and life goals, and what is best for me," Peters explained. "The effect the deferment had on me was refreshing and allowed me to focus and see clearly."
Peters will now plan to attend the University of Iowa on a full tuition scholarship, as her shift in mindset allowed for her to acknowledge what she wanted in a college experience, rather than just her past desire for a prestigious label.
Although Peters was able to disengage from societal standards and academic pressures to place self worth on college acceptance, not all students are able to do so. 
Dr. Kerry Humes, MD and director of the Master of Physician Assistant (PA) studies program at St. Ambrose University, explained her professional perspective on the acceptance process and why it is so challenging. "We are looking to see depth of involvement. This seems to correlate with success in our program," she explained. "Students who can handle academics along with extracurricular activities tend to do better."
While this provides insight into the thought process of an admissions advisor, it also explains why there is such a heavy importance on these decisions. Keeping in mind that this process is very important, Humes also provided clarity in relation to the ways a rejection can redirect a student in their academic experience. 
"The PA program at St. Ambrose has a recruiter/advisor who is available to talk with students who are thinking of PA as a career, currently applying or students who have not been successful in gaining admission," she digressed. "Students have been exposed to career choices they might otherwise not have thought about."
The ways in which such rejection can lead to opportunities is exemplary of the experience Peters spoke about, as well as the pathway of so many students. This redirection is not largely spoken about, often leading students to disappointment, self esteem issues and lack of future clarity. 
Throughout the possible disappointment students may face during their college admissions process, many professionals have words of advice, and Humes spoke on that. "I definitely believe there is more than one right fit for every student going to college," Humes explained. "While disappointing, the vast majority of students love the college they end up at."
Words of encouragement and success stories are extremely important to inform students of the endless possibilities that await them, and inevitably the ways in which their rejections can become redirections.
About the Contributor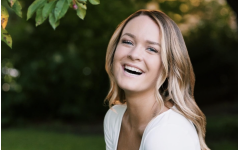 Anna Thorne, Arts and Entertainment Editor
Anna Thorne is currently a senior at Pleasant Valley and has a love for friends, family and all things summer. Other than her role as the Arts and Entertainment...