Forging his own future: Student pursues welding apprenticeship while in high school
While many Pleasant Valley (PV) students traditionally pursue four-year universities following high school graduation, senior Nick Hammes plans to forge his own future: a welding apprenticeship. 
At PV, it is becoming increasingly common for PV alumni to pursue welding degrees after high school, as the trade becomes more and more popular in general. However, Hammes is the first PV student to pursue the opportunity while simultaneously being a high school student. 
Hammes was first introduced to welding his sophomore year, when he took Brandon Tolle's "Metals One and Two" classes. Hammes was instantly drawn to the trade as a creative and manufacturing outlet. "What really attracted me to welding was my previous love of working with my hands. I've always enjoyed working with metal and creating things, and welding was just another way I can do that," he described. 
And Hammes' continued work in Tolle's classes has paid off, having earned an apprenticeship at Eckhardt Manufacturing in Eldridge, Iowa, which he plans to begin in early March. Currently, he plans to spend the remainder of the school year working at Eckhardt Manufacturing before pursuing welding opportunities at John Deere, with the hopes of eventually moving to Texas to open his own welding shop. 
While he is relatively unsure of what the specifics of his apprenticeship will look like, Hammes' work will involve designing and manufacturing custom weld stations, assembly fixtures and automated test stands for clients such as John Deere, Genesis Health Systems, Caterpillar, etc. 
Although Hammes is the first PV student to participate in a high school apprenticeship, career coordinator Mary Johnson does not believe that he will be the last. "On average the past few years we have about 5 students who apply for an apprenticeship right out of high school. [But] this is growing," she explained. 
"When I first started we may have one student every 5 years. Now that the Department of Labor has recognized high school apprenticeships as a viable option I see the opportunities steadily increasing in a variety of career pathways," Johnson continued. 
Tolle also has seen a rise in the number of students continuing to pursue trades or labor-based jobs as post-secondary options, especially as the stigma surrounding them has been addressed by society and been viewed as a viable option. 
"It seemed to be that most thought that if you didn't go to a 4 year college after high school, you weren't going to be successful," Tolle said. "I think there is a realization that our country needs skilled labor and it opens up a lot of opportunities to make a good living."
While pursuing these opportunities does not bind a student to a specific career, it can offer several benefits: building career interests, reducing or eliminating student debt and potentially earning insurance and retirement benefits.
Hammes has found his niche in welding and encourages other students to seek out possibilities to see if welding, or another trade career, is something they are interested in. "I hope that if kids feel as passionate about a trade as I do they should have the ability to do the apprenticeship," he noted. "I feel that it is a great opportunity to see if you really want to pursue something like this as your career."
And thanks to support from Tolle, Johnson and his parents, Hammes was able to pursue the apprenticeship at Eckhard Manufacturing — something that other students can take advantage of as well by visiting Johnson. 
Hammes, Johnson and Tolle hope to inspire and encourage other students to seek out trade and apprenticeship prospects through Hammes' journey.  
About the Writer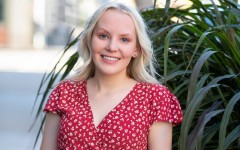 Ingrid Hofmann, Editor-in-Chief
Ingrid Hofmann is a senior at Pleasant Valley High School and serving as the Spartan Shield's Editor-in-Chief this year. She is a involved student, participating...