Job shadows: Why students should take them seriously
Many students at PV have had the option to do a job shadow. This involves sitting in on a professional who works in the student's job of interest which might later lead to a job of their dreams. 
Students may view these opportunities as a waste of time, so they choose not to participate. but they can be quite helpful to one's future. These opportunities are usually very easy to set up, as all that is required is contacting the worker of interest and setting up a date and time to do it. 
Although COVID-19 has limited the amount of professionals able to do shadows, there are many  companies that are still open to hosting shadows for students.
Job shadows are often the first step of real life exposure to high schoolers' futures. Whether it be a very complicated job or one that may seem quite simple, many students who have chosen to participate in a job shadow have found it very helpful to understand a career path.
Senior Addison Menke is interested in the medical field and job shadowed a Nuclear Medicine Tech at Cardiovascular Medicine her junior year. "It was very important for my future and I ended up deciding that particular job wasn't the best fit for my long term career," Menke explained.
Menke explained that though she will not be aiming towards the exact career she shadowed, she was able to understand more about the field. "Having that experience around patients and health care professionals did help me realize I do want to be in the medical field," she commented.
At this time she is still unsure of what she wants to do exactly, but the job shadow backed her up in knowing that she wants to have a future in the medical field. In cases like this, it shows how job shadows are not only there to provide students with extra credit points in Economy class, but for the sake of students' futures. 
Along with influencing a choice of careers, job shadows may also get a better sense of the schooling path a person could take to achieve that goal. Senior Carson Albrecht had the opportunity to shadow a physical therapist. "It is very helpful because I was able to ask what their path involved in getting to their job," he said. 
Talking to a professional about their real life experiences and what they did to get to the specific point in their career not only exposes a student to the workforce, but it also shows them the steps required to get to their desired destination later in life.
About the Writer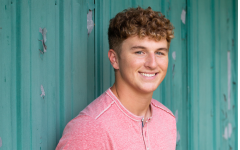 Seth Clausen, Photo Manager
Senior Seth Clausen is one of two photo managers for the Spartan Shield. In addition to his duties for the Shield, he loves being outdoors, hanging out...