Time for a new narrative: The need for greater representation in English curricula
William Shakespeare, Mark Twain, F. Scott Fitzgerald and John Steinbeck are among countless influential authors who have all written defining texts of the Western Canon, making them some of the most taught figures in English curriculums. 
However, these authors, like many of their characters, share one common, defining feature: their overwhelming lack of diversity. Or, in other words, the portrayed narrative in these texts is abundantly white. 
While curriculums have diversified a little bit, incorporating texts such as "The Handmaid's Tale" or "To Kill a Mockingbird," these are still storylines narrated from the perspective of a white person — continuing to exclude the experiences of students of color. This lack of representation is detrimental to all students, even to those whose experiences are depicted. 
Senior Corea Conner is Black and had read only a trivial number of texts written by diverse authors or portraying a non-white narrative until she took Lynne Lundberg's American Literature class her junior year. This lack of diversity in Pleasant Valley's (PV) curriculum limited Conner's, as well as other students', exposure to the myriad of outlooks that exist within society. 
"I think so often kids are exposed to the "white" version of life, and we conform to how these authors speak and think. Having diverse authors and books exposes students to other ways of living." Conner explained. "It's important to have multiple outlooks of life — it helps to understand and just get to know each other."
Many texts of the Western Canon are considered to be crucial to understanding the common experience of man, and its influence on literature over time. Yet, as society evolves beyond solely recognizing what was once common – a white, middle-class man – it is imperative that the narratives and authors that students are being taught are representative of the world around them.
Literary experts first called for more diversity in English literature in the 1970s, however, little has changed among these reading lists in the past 50 years. This only proves that this is an area where many schools throughout the nation, PV included, need to continue to improve. 
Diversity in the classroom offers countless benefits for students: increased learning, exhibiting less racial prejudice and increased self-confidence. But to fully ensure the possibility of these benefits, it is critical that curriculums reflect the heritage, culture and history of all students. And while many teachers have continued to strive to be more inclusive, it still has not become the norm. 
The inclusion of multiple, diverse perspectives and authors is something that Lundberg ensures she incorporates in her classroom and advocates for throughout the school. "What is being taught should include a diverse set of voices, and that's been something we talk about in the building regularly," she shared. 
For many students, such as Conner, Lundberg's efforts have allowed them to feel a greater sense of inclusion in school lessons. "I learned a vast amount about topics. We read poetry and literature about how America came to be and what had happened from multiple points of view," Conner described. 
And diverse literature not only creates a sense of inclusion, but also gives students the opportunity to expand their perspectives beyond their own — which is vital in developing qualities like empathy and understanding others. 
"I think the number one quality we get [from literature] is empathy. No matter who we are we need to understand people who are like us and people who are unlike us," explained Lundberg. "This will help us understand that everybody is like us in key ways, and we will be able to see other peoples' problems and other peoples' strengths on par with our own." 
While the push to expand the curriculum to include a range of perspectives is limited by what books schools currently have, can afford to purchase and are required to teach, it is also necessary to step back and examine the entire Western Canon as a whole.
"I think we need to push back on the idea of having a revered set of classics and question the 'Canon' entirely to some extent," Lundberg lamented. 
Although texts such as "Romeo and Juliet," "The Canterbury Tales" and "Don Quixote" provide an understanding of how these works have influenced one another throughout western civilization, it is vital to acknowledge that they do so through a limited, exclusionary perspective. While the Western Canon has begun to take steps to include more authors of color, who are female or LGBTQ+, now is the time to see this change within school curriculums. 
The issue of diversifying the Western Canon is more complex and comprehensive than the efforts of one district, but it is still imperative for students of color, female and LGBTQ+ students that the literary curriculum is expanded to be more representative of today's society as opposed to the one which existed more than 200 years ago. 
About the Contributor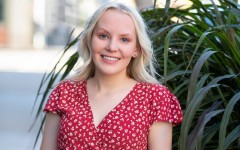 Ingrid Hofmann, Editor-in-Chief
Ingrid Hofmann is a senior at Pleasant Valley High School and serving as the Spartan Shield's Editor-in-Chief this year. She is a involved student, participating...